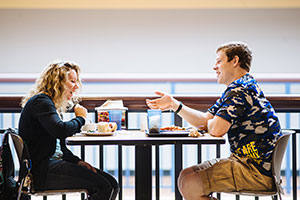 The University Staff Advisory Committee (USAC) is charged with strengthening the Wilkes community by enhancing the channels of communication and serving as a liaison between the staff and administration.
The committee will represent all levels of staff, and consists of both volunteers and appointed representatives. The purpose of the committee is to focus on issues affecting the overall staff community, not individual members. USAC will also work collaboratively with the Faculty Affairs Council (FAC) on issues of joint concern.
Our Mission
The committee will strive for transparency, communicating our progress publicly through appropriate methods. USAC will work to strengthen communication between constituencies on campus through a two-way communication process. Participation by all staff members will be encouraged at the open forum portion of the regularly held meetings. The committee will address initiatives beneficial to the University community and work toward implementing solutions in a timely manner. All efforts will support the University strategic plan and align with the University mission, vision and goals.
2021-22 Committee
Staff representation on Wilkes standing/search committees
Julia Panzitta | Human Resources Committee
Anthony Naro | Board of Trustees Finance Committee
Patty DeViva | Budget Committee
Staff Recognition
USAC recognizes outstanding staff at Wilkes through two programs: "Caught Being Colonel" and the Colonel Quarterly Awards.
Staff Mentoring
Your Colonel Colleagues Need You! Apply to be a staff mentor and help welcome new employees into the Wilkes Community.
Employee Discounts
A variety of businesses offer discounts to Wilkes employees. You will need to present your Wilkes ID to access these discounts.
Barnes & Noble - 10% off purchase (not applied to text books)
Benchmark Mortgage ­- No appraisal fee for the purchase or refinance closing on a new mortgage (see flyer)
Frank's Pizzeria - 10% off purchase
Genetti's Hotel - $89.00 plus tax* for Wilkes University faculty, staff, students and their visiting families (*certain blackout dates apply)
Jack Williams - various discounts at all locations (see flyer) - just pick up a key tag up at Human Resources
Januzzi's - 10% for pickups at the E. Northampton St. location (cap on amount)
Mohegan Sun Arena- Corporate Club discount tickets (see flyer)
Odyssey Fitness - for Corporate Membership (see flyer), call Cathy Hauze x.7120
Pep Boys - 10% discount. Available to standard parts and maintenance. Discount not applicable on oil changes, tires, antifreeze services/radio purchases
Sam's Club - $10 gift card when renewing membership; $25 gift card (business membership) certificates available
Stone Meadows Golf Course - Stone Meadows Golf Course, adjoining PA 115 in Buck Township, south of Bear Creek, is offering a great discount to Wilkes faculty, staff, and students. Enjoy a round of golf for only $10 on Mondays. A $5 discount is offered on all other days. Play their scenic and relaxing course just minutes from the Wyoming Valley. To reserve a tee time or learn more about Stone Meadows, call 570-472-3870 or email stonemeadowsgolf@gmail.com.
Tazza Shawarma Grillin Wilkes-Barre - 10% off purchase to Wilkes employees (must show Wilkes ID)
Verizon Wireless - 15% discount, go to Vzw.com/discounts to apply
YMCA - free membership to employees
Wilkes University Athletics - free admission for self and family at all home events
Contact Us
If you have any questions for USAC, please email usac@wilkes.edu or contact: