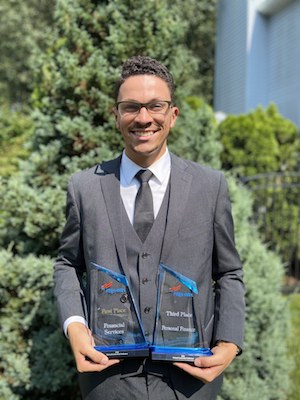 Nick Kinzler
Major: Corporate Finance
Minor: Accounting
Cohort: 2023
Phi Beta Lambda (PBL) National Conference
"With this being my second year in Phi Beta Lambda (PBL), I was looking forward to competing in yet another PBL National Conference. Phi Beta Lambda is the largest career student business organization in the world that helps over 230,000 students prepare for various careers in business. Unfortunately, just like how last year's National Conference was impacted by the Covid-19 pandemic and forced to be held online, this year's National Conference was as well. At this year's Conference, I competed in two categories, Personal Finance and Financial Services. Personal Finance is an objective category, which means that a competitor takes a test and how well one does on that test, determines their placement at the conference. On the other hand, Financial Services has both an objective and a presentation component. As a competitor in this category, I was required to take a test as well as present a case study to a set of judges over Zoom. For placement in this category, a competitor's test score and presentation score are averaged together in order to determine the final score.
This presentation incorporated many aspects of the Finance world such as the functions of money, the impact of technology on the banking industry, how the Social Security and Federal Reserve systems work, as well as how technology has affected financial information systems. I am proud to say that in the category of Personal Finance, I placed 3rd Overall at the National Conference and in the category of Financial Services, I placed 1st Overall at the National Conference. I am proud to represent the school as a Wilkes business student and member of the Honors Program as well as on the soccer field as a part of the Wilkes Men's Soccer Team. I am thankful to be part of the Phi Beta Lambda Chapter at Wilkes University and it is something that I look forward to being involved in through the remainder of my college career."
---
Matt Shelly
Major: Biology
Cohort: 2022
About the Internship
Thanks to Enhancement Grant funding, Matt Shelly interned at University of Penn Children's Hospital of Philadelphia Research (CHOP) alongside his intensive honors studies.
"I worked with a research team from the University of Penn led by Dr. Laura Almasy. The focus of our lab was centered on using Bioinformatic techniques to analyze the genetic factors that affect diseases such as Schizophrenia and Autism. My role in the lab was to participate in a group systematic review of gene expression in Schizophrenia patients. Basically, we combined data from over twenty different papers focused on Schizophrenia gene expression to create one large review that analyzed all the results from these individual papers together. In addition to my participation in this group review, I also created my own research project focused on exploring the effect of genetic ancestry on the risk of inheriting autism spectrum disorders. This analysis sought to explain why autism spectrum disorders are more common amongst certain nationalities by comparing thousands of families from multiple different datasets."
Benefits of Interning & Future Plans
"From this internship, I expanded my research experience beyond what is available at Wilkes University. Working at the University of Penn allowed me to conduct research that could help determine the genetic causes of complex disorders like that of Schizophrenia and explore a new area of biology (Bioinformatics).This internship is not yet complete, as I will continue working for Dr. Almasy and her lab group throughout the spring semester and into the summer. This will allow me to hopefully complete my independent research project, and if all goes well, become a published author before leaving Wilkes University. If any students are interested in completing a similar internship to mine, the program I am participating in is called the Children's Hospital of Philadelphia Research Institute Summer Scholars Program (CRISSP). The applications typically open in the winter and the program is supposed to run the entirety of the summer (I was able to work through the Fall and Spring due to Covid). The program includes research, shadowing, and leadership opportunities that are meant to help students prepare for graduate or medical schools."
Advice for Fellow Students
"If I were to offer advice for other Honors students, I would say do not be afraid to put yourself out there. Many of these programs do not focus on the size of the school we attend, but instead on the attributes of the candidate, giving students at Wilkes an equal (if not better!) chance of being accepted into these competitive programs. Also, I would recommend for Honors students to try to use their summer and winter semesters wisely whether that be by shadowing, taking a class, or applying for internships. All these experiences add something to your resume/application increasing the chance of getting a job or being accepted into a graduate/medical program after graduating from Wilkes."