Step 4 - Review of Applicants
To apply for an open position, candidates must submit an online application and include a resume/CV. During the search period, the Human Resources department will provide the hiring manager (and search committee, if applicable) access to the candidates' applications information via an applicant tracking system (ApplicantPro).
ApplicantPro Access
The Human Resources department will provide your Username and Password to enter at https://admin.applicantpro.com.
You will be taken to your Applicant Dashboard which will show all jobs/departments currently assigned to you.
All Applicants: In this tab you are able to view applications for jobs in your assigned department(s) by using the drop down menu.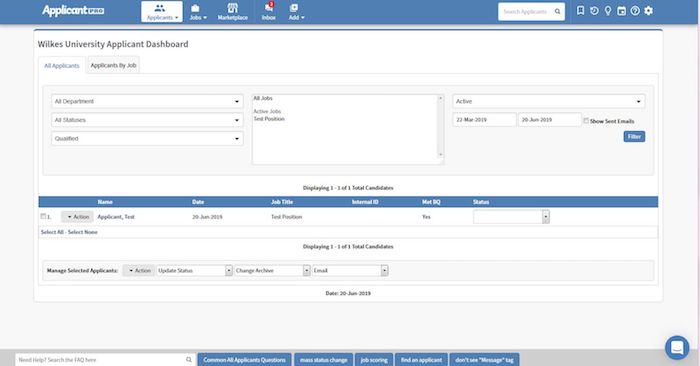 Once you select your job, you will see a list of applicants for that position. Here, you can search for and sort through applicants. Several filters are available to assist with the applicant review process.
To open an application, click on the icon next to the applicant's name, then click "View". This will open the Application in a new tab. A sample application is shown below.