Our first unique partnership with Panama has already brought Panamanian students, teachers and dignitaries to Wilkes and hosted members of the University community in Panama.
Encouraged by the success of our Panamanian programs, the Office of International Engagement will continue with plans to expand our work to other countries in the Latin American and Caribbean region.
For more information on partnerships, please contact:
Dr. Georgia Costalas
Executive Director, Center for Global Education and Diversity
georgia.costalas@wilkes.edu
Panama
Wilkes University extended its international reach in 2016 by becoming a host university for the MEDUCA Bilingual Panama Program. Wilkes joined a select group of only 13 schools in the United States to participate in this international outreach program.
In just a few short years, our relationship with Panama has grown to include partnerships with:
Government and funding agencies
MEDUCA
MIRE/Department of Foreign Affairs
IFARHU
Universities
Universidad de Panamá
Universidad Technológica de Panamá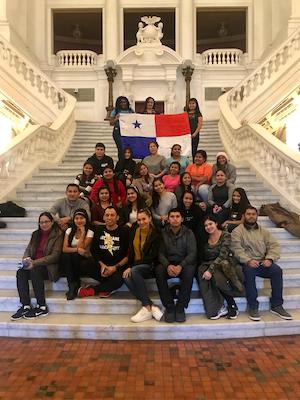 The MEDUCA-Bilingual Panama Program provides opportunities for elementary and secondary teachers to travel from Panama to Wilkes University. While on campus, the teachers study English and develop best practice educational methods.
During their time at Wilkes, members of the MEDUCA cohorts have had the opportunity to work with autistic students at a local school, visit New York City, share traditional foods and dances during Panamanian Cultural Day, and enjoy their first snowfall.
An initiative of the President of Panama, Juan Carlos Varela, and run under the auspices of Panama's Ministry of Education (Ministerio de Educacion), the MEDUCA-Bilingual Panama program is part of a national commitment to develop bilingualism in Panama's public schools.
Under this program, Wilkes provides educational opportunities to Panama's professionals doing diplomatic work in the Ministerio de Relaciones Exteriores, the country's equivalent to the U.S. Department of State. The English for Specific Purpose Program with a Concentration in International Relations will be delivered in Panama to 60 MIRE staff members for a full year.
The MIRE program was created through an agreement signed by Wilkes President Patrick F. Leahy and Isabel Saint Malo de Alvarado, Panama's vice president and minister of foreign affairs.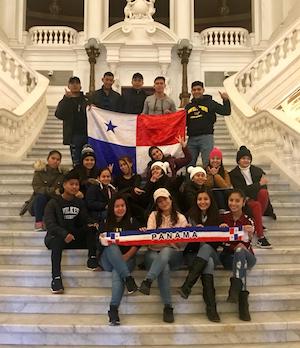 This program allows high-achieving undergraduate students to travel from Panama to Wilkes to participate in the University's nationally accredited Intensive English Program.
Funded by Panama's Institute for Training and Development of Human Resources (IFARHU), these talented students are immersed in English language and culture to prepare them for academic course work in the United States.
The first group of IFARHU students successfully completed their program in December of 2017.
To promote inbound and outbound study abroad, academic collaboration, faculty exchanges and joint research, Wilkes established agreements with four Panamanian universities:
Universidad de Panamá
Universidad Technológica de Panamá

Through these partnerships, we aim to provide students and faculty from Panama and Wilkes opportunities to immerse themselves in another culture and system of higher education, creating global citizens.