What is the MEDUCA-Bilingual Panama Program?
MEDUCA is the acronym for Panama's education ministry: Ministerio de Educacion.
Wilkes University's School of Education is pleased to offer an intensive, highly academic English language immersion program for Panamanian educators through MEDUCA. The program brings cohorts of teachers to Wilkes to learn English and education best practices.
Our program offers educators enrolled in the program the opportunity to improve language skills while gaining a practical understanding of the most current trends in educational leadership, teaching methods and assessment practices.
Develop a number of English as a Foreign Language (EFL) reading, writing, listening, speaking, grammar and vocabulary lessons
Learn the latest trends in using technology in the classroom
Improve conversational skills by meeting and shadowing American K-12 teachers
Participate in academic co-curricular activities designed to enhance classroom content
The MEDUCA program also provides educators with the tools and strategies needed to improve their own abilities to speak, read, write and comprehend English, and while so doing, develop and obtain feedback on a wide range of lessons they can implement in their own K-12 classrooms upon return to Panama.
For more information about the MEDUCA-Bilingual Panama Program, contact:
Charlie Isabel Roner
Associate Director of International Engagement
charlie.roner@wilkes.edu
Dr. Georgia Costalas
Executive Director, Center for Global Education and Diversity
georgia.costalas@wilkes.edu
About Our Panama Partnership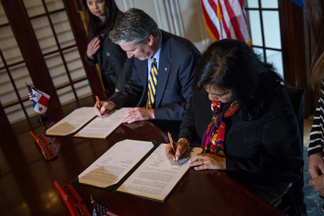 Marcela Paredes de Vásquez, Panama's minister of education, visited Wilkes University in 2017 as part of a comprehensive new partnership between the Latin American country and the University.
Paredes de Vásquez began her visit – her first to northeastern Pennsylvania – by signing an agreement with Wilkes that will pave the way for educational partnerships in fields that include education and STEM fields. Wilkes hosted its first cohort of Panamanian teachers as part of that country's MEDUCA-Bilingual Panama initiative in 2016. Wilkes is one of only 12 schools in the United States and just two in Pennsylvania to participate in the bilingual program.

An initiative of the President of Panama, Juan Carlos Varela, and run under the auspices of Panama's Ministry of Education (Ministerio de Educacion), the MEDUCA-Bilingual Panama program brings cohorts of teachers to Wilkes and other colleges and universities in the United States, Canada and the United Kingdom to study English and learn educational methods that are best practices. MEDUCA-Bilingual Panama is part of a national commitment to develop bilingualism in the country's public schools. The cohort studying at Wilkes includes teachers who work with students in Panama's elementary and secondary schools.