About the Student Fellowship Fund
The Sordoni Art Gallery is a different kind of classroom. We bring world-class art to the Wilkes University campus and community. Before you see it, the Sordoni Gallery team, made up of our faculty and students, broadly discuss how to create the best visitor experience.
Our office is an incubator full of creativity. If you have received our postcards, seen our banners, follow our social media, or taken home our catalogs, you have experienced the output of our talented student staff.
You can help them. This year, instead of our traditional membership drive, the Sordoni Gallery is establishing a student fellowship fund to support specialized projects of the gallery. This will allow our students the professional experience to interact with artists and vendors while gaining valuable lines on their resumes!
Student Fellow Spotlight
This year's Design Fellow is Jessica Morandi, Digital Design & Media Art senior. What is it like being a SAG Fellow? Read our interview with her to find out!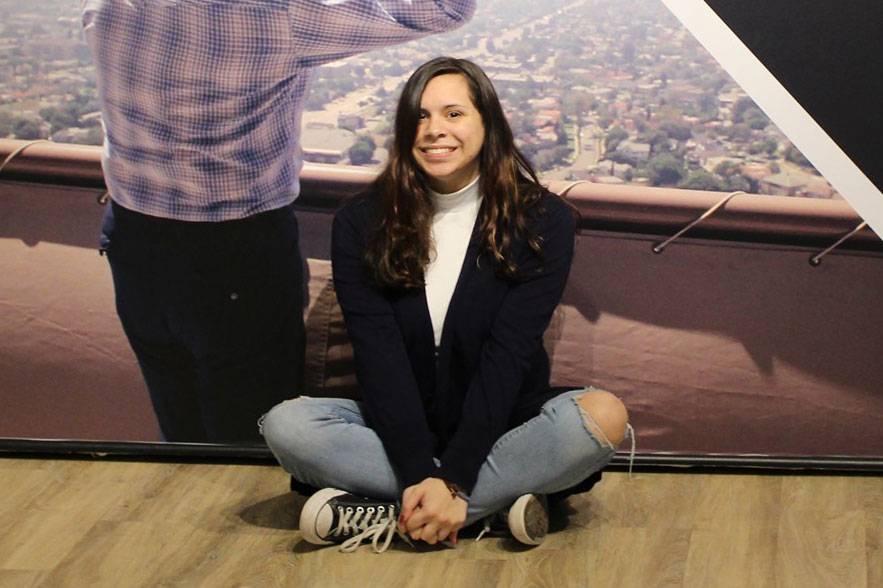 Hey Jess, can you tell us a little about yourself?

"I'm a senior DDMA here at Wilkes with art and marketing minors and I've been working with the Sordoni Art Gallery since I was a freshman. I am originally from Long Island, New York, a town called Wantagh, but I just recently got my PA permit!"

Why did you choose Wilkes University?

"It was totally by accident. I went to a college fair with a friend, but didn't want to linger around the same space. So I spent time at a booth next door for support-- Wilkes' booth. They told me about the art program here, and I decided that day. My dad said "Don't put all your eggs in one basket" but I put all my eggs in one basket. As soon as I was accepted here, I stopped looking."

How long have you been interested in design?

"I have always been artistically inclined, a creative type. But I've never been good at fine art-- shading, conceptualizing, totally escaped me. Then I was introduced to photoshop and graphic design, and I was hooked. As soon as I started working on basic shapes, type, and space, I found I was actually good at it. It became my creative outlet and I really worked hard to get better."

What was your first real project?

"Age 13! I had to create a superhero for a design class. It was really bad, drawing wasn't my thing, but it was enough to get me going. My second graphic design course got me hooked on typography. More importantly, it taught me how art and design are related, but you don't need to be good at fine art to be a good designer."

How did you get your start at SAG?

"During freshman orientation, I saw the new building under construction and got really excited that there was a gallery on campus. My advisor set me up with Heather Sincavage, human ray of sunshine. I expressed interest in working here, but I was too nervous to apply at first. But Heather was my professor and offered to interview me for a position a few weeks later."

How was it transitioning from gallery worker to designer?

"At first, I was on the desk, which meant protecting the art and answering questions. That year, Brianna Fedorko was the senior student designer who was leaving after the spring. I already had a few design classes under my belt, so I popped in on Heather to mention that my skills might work in the future. Heather trusted me to handle a lot of designs right from the get go that really helped me to find my voice."

Is there something about doing branding for SAG that's different from other design internships?

"Each show has its own personality, its own features, and design has to capture that voice without overshadowing the art. It's constantly changing and allows for much more creative flexing and interpretation than elsewhere. Marketing elsewhere can be very restrictive; you have to use templates and established branding which makes it difficult to establish a personal vision or even to more accurately hone your skills."

What was your first solo project here?

"Pete Souza, which was exceptionally intimidating! I have never created branding from the bottom up-- and to start with something so high profile? I had to get used to large scale projects and tight deadlines fast. Even more importantly, I needed to balance a political contrast in addition to the artistry, that was tough. But it was an experience that was really fulfilling and doing it successfully really upped my confidence."

Any favorites?

"I really love the one I am working on now for Martha Posner "Brutal Beauty." It stands out in terms of complexity-- not only because of the variety of artistic media but also because of context and content. Mythology and its relationship to trauma and recovery, it's a topic that needs to be handled delicately. But it was worth it."

How has this fellowship helped you as a student?

"I have more confidence in my design work for class. I am not afraid to take on leadership roles. I am president of Studio 20 and have become a representative of the DDMA major based on my portfolio of past successes. But working in the gallery has also upped my ability to work more efficiently and hone my design editing skills. I can offer quality control in a way that is not able to be covered in a classroom."

How has it helped beyond schooling?

"This fellowship was a chance to have a professional experience while still being a student. Timelines for projects reflect the real-life crunch that I will be seeing in the future. I now know how to brand and nitpick from the bottom up, to create something from scratch. It has also allowed opportunities for experience working with outside vendors and developing a broader skill set than what I have learned in the classroom. I have also gotten freelance gigs based on my branding experience!"

What do you hope the next person will get out of it?

"I hope they get the same rich understanding of what it's like to be a professional. This whole experience of working in this environment and being surrounded by art and creative energy will let you explore what you like and develop your designers vision. Every student who comes in should have the same opportunity to experience exploring their style and having the opportunity to be a professional. This position is just as valuable for SAG and Wilkes University. It showcases student talent and a design team is such a huge asset. I cannot thank the members enough for helping to sponsor this position."