Featured Exhibit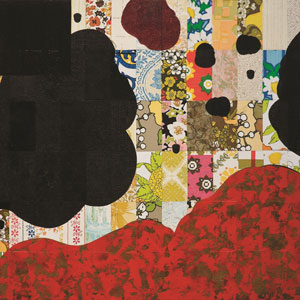 Juan Logan: Creating and Collecting
Nov. 2, 2021 – March 13, 2022
A Dr. Roy E. Morgan Memorial Exhibition
This exhibition will close for the University's Winter Break after Friday, Dec. 17, 2021. We will reopen on Tuesday, Jan. 18, 2022.
Working out of his studio in Belmont, North Carolina, artist Juan Logan continues to expand his art's unyielding call for social responsibility. Logan's artworks, which address subjects relevant to the American experience, are simultaneously abstract and representational. His paintings, drawings, sculptures, installations, and videos address the interconnections of race, place, and power. They make visible how hierarchical relations and social stereotypes shape individuals, institutions, and the material and mental landscapes of contemporary life.
A retired University of North Carolina Professor, Logan's installations, sculptures, prints, and paintings are included in the collections of the Whitney Museum of American Art, the Philadelphia Museum of Art, the Smithsonian Museum of African American History and Culture, and many more. Through his many exhibitions and a very successful career, Logan amassed a collection of works from his friends and sources of inspiration in the art world. Not only will this exhibition share his many holdings by the most important artists from the 1970s to the present, it will also present Logan's own work in dialogue with his collection. The galleries will examine the role that Jasper Johns, Claes Oldenberg, Robert Motherwell, Thornton Dial and more have played in Logan's practice as an artist and how collecting has informed his creative process.
This exhibition originated at the Hickory Museum of Art.
---
Events
Events take place at the Sordoni Art Gallery unless otherwise stated. All events require registration. To register, please contact:
Heather Sincavage
Sordoni Art Gallery Director
heather.sincavage@wilkes.edu
Family Hour: Celebrating Thomas Moran
Saturday, February 12, 2022 at 12 p.m.
As a collaboration with Jan Lokuta of the Riverfront Parks Committee, color a Thomas Moran work of art as you learn more about the origins of the United States National Parks Department. This event is perfect for families and people of all ages.
A Special Evening with Juan Logan
Virtual | Wednesday, Feb. 16, 2022 at 5:30 p.m.
Sordoni Art Gallery director Heather Sincavage will moderate a virtual conversation with Juan Logan, artist and art collector to discuss his work in his exhibition, Creating & Collecting. At once abstract and representational, his large mixed media paintings, sculptures and installations address issues of identity, place and power. Through commentary about history and cycles of oppression, Logan's work makes visible the hierarchical relations and social stereotypes that shape individuals, institutions, and the material and mental landscapes of contemporary life.
Art in Your Hands Workshop: Matchbook Sculpture
Tuesday, March 1, 2022 at 11:30 a.m.
Phillumeny, or matchbox collecting, became a notable hobby almost immediately after the safety match was invented in 1850. The beautiful matchbox designs have since inspired artists who use the tiny space to create whimsical miniature scenes as well as collectors. Taking a cue from Juan Logan's use of found objects, we will be creating our own matchbox miniatures! We will provide all the tools you need to create a miniature shadow box, as well as some fun facts about the exhibition, found objects, phillumeny and more! Consider bringing your own personal image or photograph to add meaning to your matchbox narrative.