GETTING THERE
By: Andrew Ellis Johnson & Susanne Slavick
Jun 21 – Aug 7, 2022
GETTING THERE is an exhibition by the creative duo Andrew Ellis Johnson and Susanne Slavick, both faculty members from Carnegie Mellon University. The exhibition addresses timely themes surrounding peoples affected by migration due to war, famine, climate change, political repression, and social injustice.
It pairs ink and mixed media on paper works by Johnson, and oil and mixed media paintings on paper and panel by Slavick, with writings by novelists, poets, anthropologists and journalists who have informed their projects and whose words they have included or cited. Among them are Jenny Erpenbeck, Lev Golinkin, Eliza Griswold, Mohsin Hamid, Ali Johar, Maria Melendez Kelson, Jason De León, Blas Manuel de Luna, Suketu Mehta, Yasser Niksada, Prageeta Sharma, Warsan Shire, Wisława Szymborska, and Vu Tran.
In Search of Meaning: Memory Becomes Us
By: Patricia Moss-Vreeland
Aug - Oct 2022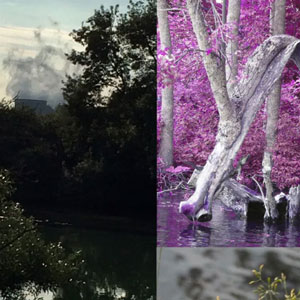 An exhibition illuminating the role memory plays in relation to who we are. Patricia Moss-Vreeland's paintings, prints, artist books, poetry and videos are metaphoric responses and reside in concert with the interlacing of science texts, connecting the personal to the universal. In a series of conversations, Moss-Vreeland has with Dr. Dasa Zeithamova, University of Oregon, explore the function of the human brain to find meaning, the parallel universes of art and science, their different ways of knowing and self-expression, and the importance of stepping out of our silos and forming relationships. Moss-Vreeland integrates her ongoing inquiry about the social impact of memory in new works, adding another layer of meaning, along with a new sensory component designed with the Monell Chemical Senses Center.