Follow your passion.
Write your story.
Work to get published.
At Wilkes, we focus on craft, community, and career.
Receive one-on-one instruction from our accomplished, caring faculty.
Join a community of writers that will stay with you after you leave.
Get business advice and work at an internship to jump-start your career.
Meet with an agent, editor, or producer and get their feedback on your ms.
Write in any of the following genres:
Choose from two convenient formats:
Low-residency: online with eight-day campus residencies in January and June. Learn more about our residencies.
Weekender: online with four weekend sessions per semester.
Face-to-face components give you the opportunity to share ideas and interact with your colleagues, faculty and guest lecturers. Your semester coursework is conveniently conducted online so you can connect with your faculty and classmates from anywhere. Our cohort format creates a strong bond among peers – relationships that last a lifetime. Some of our graduates still participate in writing retreats with their cohort, well beyond graduation.
Since the founding of our program in 2005, members of our creative writing community have made a tremendous impact in the literary and arts world.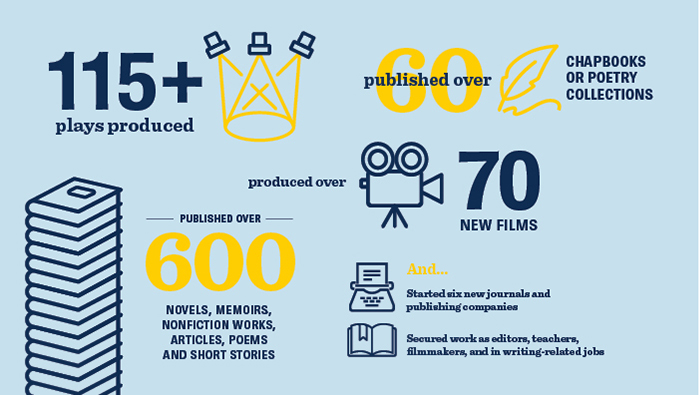 Mission and Vision
The mission of the Maslow Family Graduate Program in Creative Writing is to educate our students in the craft, life, and business practices of eight areas of study — fiction, poetry, spoken word, screenwriting, playwriting, creative nonfiction, publishing and making documentary films — through a commitment to excellent mentorships, publishing opportunities, and industry-specific internships. We offer a nationally recognized graduate creative writing program where students and faculty find the writing support, community, and market opportunities to become lifelong, productive, professional writers in all fields.
---
Wilkes Graduate Creative Writing Program Collection
Find books and materials written/produced by graduates and faculty of the program.
Wilkes Graduate Creative Writing Program - General Documentation Guidelines
Students requesting accommodations and services at Wilkes University are required to submit documentation to determine eligibility in accordance with Section 504 of the Rehabilitation Act of 1973 and the Americans with Disabilities Act. The following guidelines are provided in the interest of assuring that documentation is complete and accurate.