Despite how much education and experience you may possess, your performance in an interview will determine whether you are a viable candidate for a position. Interviews may be done via phone, on-site, with one recruiter, and/or with a group or a search committee.
Successful candidates who follow proper interview etiquette, who are well prepared, knowledgeable about the organization, appropriately dressed, enthusiastic, and who are able to offer specific examples to illustrate their skills, are favorably considered.
Do meet with the Center staff to do a mock interview. We will help you to prepare responses and gain confidence for the interview. We also offer the BigInterview program for 24/7 online tutorials and interview practice.
A Successful Interview

Recruiters will rate your interview on a variety of factors, such as:
Handshake, eye contact, non-verbal communication, manners, dress
Communication of interpersonal skills needed for the specific job, including: flexibility, leadership, assertiveness, patience, self-confidence, self-awareness, creativity.
Knowledge of their organization. Always thoroughly research the organization and prepare questions about the organization's initiatives, challenges, and how you can help them meet their needs.
Illustration of your knowledge and skills in your field
Relation of your skills, personality, and career goal to their organization's needs
Always do a mock interview prior to the actual interview!
Contact the Career Services, careers@wilkes.edu, office for a mock interview appointment with a staff member. Make an appointment with us to do the mock interview well before the interview date: our schedules do not permit "walk-in" mock interviews.
Students and alumni, you can use the popular interviewing prep software BigInterview.com for free, courtesy of Wilkes University Career Services!
Go to wilkes.biginterview.com to create your own login and password!
You will need a computer with a webcam and must use GOOGLE CHROME to access the site, or you can download the Big Interview app on your phone. Go to wilkes.biginterview.com to create your own login and password!
Utilize their training tutorials, and then practice responses to hundreds of practice interview questions. You can send them to Career Services, as well as to any individuals you choose for feedback. Come to Career Services to do a one on one practice interview as well!
Plan your interview attire ahead of time.
Conservative, professional dress, even for work in business-casual environments, is expected by your interviewer. A suit for men is expected; a suit, plain dress, or pant suit is considered appropriate for women. Jewelry, especially earrings and rings should be minimal; piercings and tattoos should be concealed; and hair, shoes, and manicures, should look neat and professional.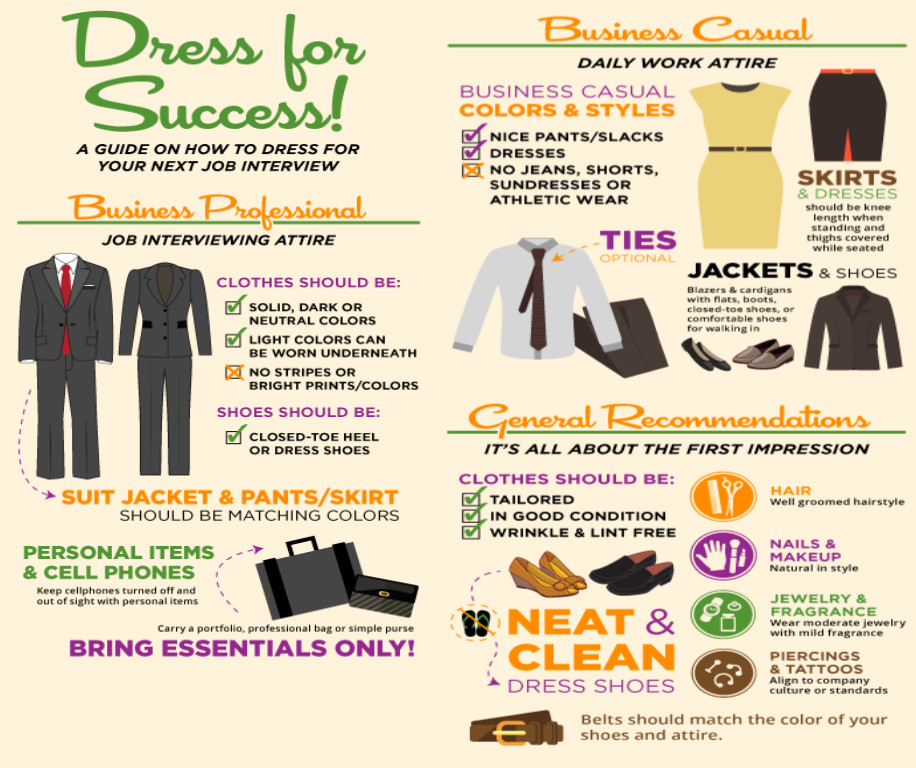 Realize that behavioral interviewing questions used by most recruiters require that you prepare responses about your past behaviors.
It is CRITICAL that you practice and prepare responses to questions such as:
"Describe how you handled yourself in a high pressure situation."
"How did you prepare for today's interview?"
"What is your greatest personal accomplishment?"
"Tell me about a time that you dealt with a dilemma as a ____ (salesperson, student teacher, athlete, student, intern, etc.)" -"Convince me to….buy this pen, hire you as my accountant, enroll my child in your service, hire you instead of the other candidates."
"Write me a computer program which ….."
Candidates who do not research the company will quickly be eliminated.
Make sure to have a copy of the job description and make notes on how your skills match the company's needs. Research the company on the web and prepare a list of questions about the company prior to the interview. Ask questions about the company's goals, challenges, products, clients, and career growth and training opportunities.
Be prepared to offer responses to questions such as:
What would you improve about our website?
How has our stock done recently?
Which type of our clients would you prefer to work with?
How would you expand our services?
Interviews will be conducted at the Advising & Career Services
Interview Room: Conyngham Hall, 1st Floor - Rm 110, unless stated otherwise.
On-campus interviewing allows you to interview with corporate recruiters at Career Services. If you do well during this initial screening, you may be invited to a follow-up interview at their site.
For more information regarding on-campus interviewing opportunities, please contact the Career Services Office. Wilkes alumni are encouraged to participate.

You must meet the following guidelines to insure that you make the most of your opportunity.
Obtain resume writing assistance and a critique of your resumé at Career Services.
Submit your resumé and arrange an interview time with the Career Services office a minimum of 7 business days before the interview.
Research the organization. Check out their website, competitors, and online business resources.
Schedule a mock interview with Career Services.
Prepare a list of questions for your interviewer, who wants to know that you are interested in how your skills and abilities can contribute to meeting their organization's goals.
Dress in conservative clothing, appropriate for the organization. Recruiters have the right to ask those not dressed appropriately or arriving late for an interview to withdraw from the interview schedule.
If you cannot attend an interview, you must cancel at least 3 days prior to the interview. If emergencies/illnesses occur and you cannot attend an interview, you must call Career Services immediately and write a letter of apology to the recruiter within 24 hours of the missed interview in order to maintain services from our office.
SOME HELPFUL LINKS: