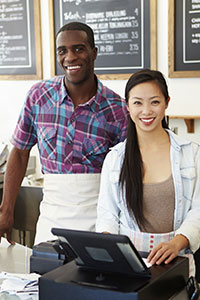 The Wilkes University SBDC works with existing businesses!
If you are a manufacturer with less than 500 employees or a service /retail provider with less than 100 employees, you are eligible to use our services. We have assisted businesses with expansion, diversification, international trade, technology, marketing, management, human resources, environmental issues, growing pains, and survival to name a few. If you are interested in working with the Wilkes University SBDC, sign up for a consultation with an SBDC consultant today!
Get More Funding
In order to grow and prosper or simply survive existing businesses are often in need of financing. The Wilkes SBDC can help you prepare a business plan and financial analysis of your business if you are in need of financing.
Expand to New Locations
Once you're ready to expand, contact the Wilkes SBDC to update your marketing plan and confirm that your business is financially prepared. Then, make sure to comply with all laws, rules, and regulations in the new business locations.
Merge and Acquire Businesses
You can grow your business by buying or merging with a smaller business. The Wilkes SBDC can help you determine the steps you need to take to protect your existing business.
Exporting Products
Export goods to increase your profits, reduce market dependence, and stabilize seasonal sales. Connect with a member of the Wilkes SBDC to begin.
Learn more about Government Contracting & Certification
The federal government encourages small businesses to take on contracting opportunities. The Wilkes SBDC can help you navigate the process. Learn More →
---
No matter what the question is, the SBDC can help you find answers. Our consultants provide valuable one-on-one confidential consulting to help you define the growth strategies you need to accomplish your goals!
Funding support and resources are provided by the Commonwealth of Pennsylvania through the Department of Community and Economic Development, through a cooperative agreement with the U.S. Small Business Administration, and through support from Wilkes University. All services are extended to the public on a non-discriminatory basis. Special arrangements for persons with disabilities can be made by calling 570-408-4340. All opinions, conclusions or recommendations expressed are those of the author(s) and do not necessarily reflect the views of the SBA.
SBDC services are not available to individuals or entities that have been debarred or suspended by the federal government. By agreeing to receive assistance from the SBDC you are self-certifying that you are not currently federally debarred or suspended and also agree to cease using SBDC services if your become federally debarred or suspended in the future.