Ying Li: Geographies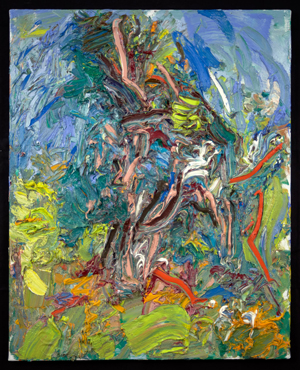 The Old Pine Tree Struck by Lightning, Oil on Linen, 2015, 30x24"
October 25 – December 18, 2016
Opening reception: Wednesday, October 26 from 4:30 - 6pm
Gallery Talk during the Reception with Artist Ying Li at 5pm
Geographies, an exhibition of paintings by Chinese-born Ying Li is more than images of landscapes and city scenes. This exhibition depicts the physical and metaphysical act of painting resulting in a thick and tactile surface vibrating with expression.
Ying Li was born in Beijing, China. Before immigrating to the United States in 1983, she studied at Anhui Teachers University (1974-77), where she subsequently taught. She learned her MFA from Parsons School of Design in 1987. Her work has been published in the New York Times, New Yorker, Art Forum, Art in America and she received the Henry Ward Ranger Fund Purchase Award and the Edwin Palmer Memorial Prize for Painting and Certificate of Merit, all from the National Academy Museum, New York. Li currently teaches at Haverford College.
The exhibition is organized by the Cantor Fitzgerald Gallery and will be accompanied with a catalog with an essay by curator, Faye Hirsch, SUNY Purchase.