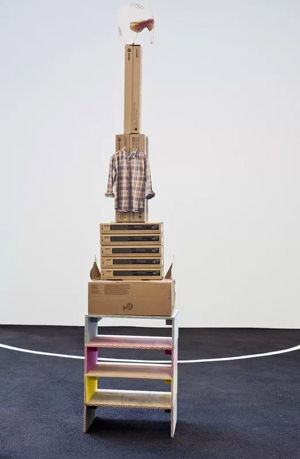 Photo from Of Color by Lyndon Barrois Jr.
Photo Courtesy of David Johnson.
Lyndon Barrois Jr. | Of Color
March 23 – May 21

Artist Lecture: Thursday, March 23 • 4 - 5 p.m. • Kirby Salon
Gallery Reception: Thursday, March 23 • 5 - 7 p.m. • Sordoni Art Gallery
A Signal for Play
Francine J. Harris
Afterward, you may remember the figures in Lyndon Barrois, Jr.'s "Of Color" emanating more color than they actually do. In their cutout, halftone resonance, the figures positioned in teams atop a gallery-installed asphalt basketball court, pulse a sunniness, a rosiness, a billowing blue. Partial adornments outfit those figures built of toner boxes in neat, asymmetric columns, and the ensembles vibrate diaphanously as modern totems, while the pale, white gallery walls recede into a wash of light.
Barrois suggests this work is, in part, about accessibility. The evocative installation, like its poignant notions of color, requests our engagement with game – depicting teams dressed in "street clothes" you wouldn't expect to find on a ball court, where you wouldn't expect to find a court. The clothing itself, fashionable. Perhaps the fashion rounds out the complex experience I have with this installation.