Photographer Lydia Panas
January 20 – March 3, 2017

Artist Lecture: Thursday, February 2, 4 - 5pm, Kirby Salon
Gallery Reception: Thursday, February 2, 5 - 7pm, Sordoni Gallery
Award-winning photographer Lydia Panas explores vulnerability, tension and emotion within the classic but non-traditional portrait. Panas captures a revealing and compelling honesty through body language, facial expression and the model's relationship with space.
The exhibition, After Sargent, is inspired by the painting, "The Daughters of Edward Darley Boit" by John Singer Sargent. The painting of four pre-adolescent girls in a foyer was originally panned by art critics in its time, but has since provoked more conversation around Freudian analysis and the implications of adolescence. The work inspired Panas to ask her models three questions: What do you long for? What do you regret? What are you afraid of?
Panas has been featured in publications such as Time Magazine, Popular Photography and the New York Times Magazine and was a Whitney Museum Independent Study Fellow. Her first monograph, The Mark of Abel, was published in 2012 and her second, Falling from Grace, was published last year.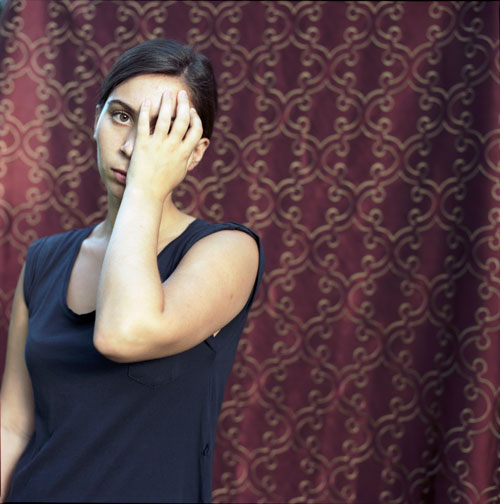 Lydia Panas, Detail from Ana(Red Fabric), chromogenic print, 2012-2013.