Feats of Six Hands: Jack Troy, Archie Johnson & Ruth Cohen

MARCH 29 –MAY 15, 2016
Opening Reception, Thursday March 31 from 5-7pm • Free and open to to the public.



This exhibition features three ceramic artists.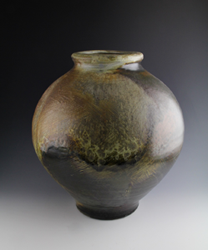 Jack Troy is a potter, teacher, and writer, from Huntingdon, Pennsylvania, where he taught at Juniata College for 39 years. His work has been exhibited widely and is included in the collections of the Smithsonian Institution's Renwick Gallery, Auckland (NZ) Museum of Art, Kalamazoo (Michigan) Institute of Art, and Alfred University. He received the 2012 National Council for Education in the Ceramic Arts (NCECA) Excellence in Teaching Award. He is the author of Salt Glazed Ceramics and Woodfired Stoneware and Porcelain and over 90 articles in ceramics publications. In addition he has published a book of poems, Calling the Planet Home.

He has observed that "We potters finish our work, but others complete it, through use. Pottery is only finished once, but can be completed endlessly, by a succession of users, potentially enlivening a variety of settings.
On the right is Jack Troy's Anagama-fired Stoneware Jar,
with slip & Temmoku Glaze, 2015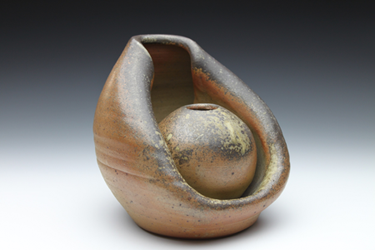 Archie Johnson is a retired architect who operates Mud and Fire Potters with his wife Ruth Cohen. He describes his work as "architecturally influenced with an emphasis of pure form, and the creative fusion of traditional and contemporary forms..." Combining wheel-thrown with pure sculptural forms, he creates objects evidencing a dynamic tension between the functional and the formal. He is the recipient of two "best in show" awards at the Brooklyn Museum of Art.
On the right is Archie Johnson's Bourry Box Kiln wood-fired, Wheel-Thrown Stoneware Sculpture, with natural ash glaze, 2013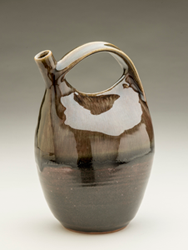 An educator and ceramicist, Ruth Cohen is now based in Little Meadows, PA, where she and her husband Archie Johnson run Mud and Fire Potters, a studio and gallery. Her work reflects her philosophy that "art should surround us and be enmeshed in every day routines. Casual rituals, as sipping tea from a handcrafted bowl or mug, should promote self-reflection and feelings of peace and tranquility." Her work has been exhibited in numerous galleries in Northeastern Pennsylvania and New York.
On the right is Ruth Cohen's Bourry Box Kiln wood-fired,
Stoneware Pouring Vessel, with green celadon & Temmoku Glaze, 2014
---
Gallery Hours
Fall and Spring Semester Hours:
Noon – 4:30 p.m. Tuesday - Sunday
The Sordoni Art Gallery is closed during university breaks and holidays. In the event of inclement weather, the gallery is closed in accordance with university delays and cancellations.
For more information: Call (570) 408-4325