Blair Seitz: Aerial Perspectives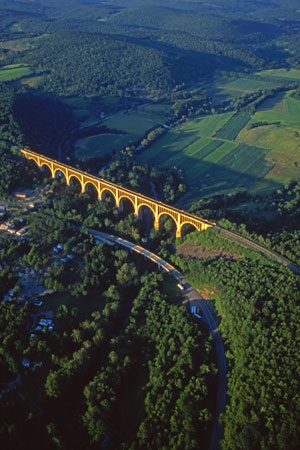 The Sordoni Art Gallery at Wilkes University opens the exhibition, Blair Seitz: Aerial Perspectives on Tuesday, September 1. Blair Seitz will be our honored guest at the Sordoni Art Gallery Artist's reception for the exhibition Blair Seitz: Aerial Perspectives on Thursday, September 10, 2015, from 5-7 p.m. This event is free and open to the public. The exhibition will be on view through October 11, 2015.
Blair Seitz is the photographer of 22 books. His publications are numerous including "National Geographic Traveler," "Nation's Business," "New York Times Magazine" and "Endless Vacations." Book titles include Tapestry, PA from the Air, Philadelphia and its Countryside, Pittsburgh, Amish Ways, Gardens of Philadelphia and Pennsylvania Yesterday and Today. He has also written a memoir of his years in Africa and Asia as a photojournalist.
Blair is a versatile photographer who notes, "I am entering my fourth life. First, a successful photojournalist in Africa and Asia, then for 10 years I devoted my time to corporate and editorial photography based in Harrisburg, PA. In the 90's I became an avid stock and book photographer and, in 2000, I opened a gallery, plunging into art photography—my fourth love and life." Blair is currently a member of Art Plus Gallery.
Blair was awarded a fellowship grant from the Pennsylvania Council of the Arts and a silver medal in New York's International Film and TV Festival for text and photographs about four Kenyan ethnic groups. The World Exhibition of Photography and the Museum of Natural History, New York, have exhibited his photographs.
Blair would like to dedicate this photographic show to Dr. James Merryman, his close friend for 43 years—since working with him in Kenya in 1972, when he was assigned to photograph the agricultural settlement project for the Somali people of NE Kenya, who had lost all to drought. With Jim's management and fluent Swahili communications, the project flourished. Then and since then, he and his wife, Nancy, have been inspirations to Blair to excel in his photography as well as in a life of compassion.
The Sordoni Art Gallery is open to the public and is located at 150 South River Street in the Stark Learning Center on the Wilkes University campus. The Gallery is open Tuesday through Sunday, from 12 noon to 4:30 p.m. The Gallery is closed during Holidays and University breaks, admission is free. For more information, call 570-408-4325.