The Bones of Us Hunger for Nothing
January 16 - March 2, 2018
"My work is about how meaning gets made. I'm interested in how narratives become dominant, how power structures evolve, and what roles pop culture, literature, and art history play into this."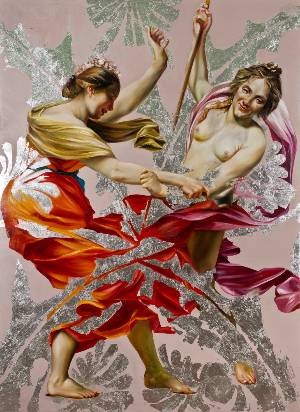 In this exhibition, Angela Fraleigh reimagines the role of women as they have been depicted in art history, literature, and media. She reaches through the depths of centuries-old and often patriarchal tradition to breathe new agency into her female subjects. The grade scale works feature luxurious depth that makes them sometimes Edenic, sometimes mystical, but always breathtaking.
Fraleigh earned her MFA from Yale University and her BFA from Boston University. She is the Chair of Studio Art at Moravian College. She currently lives and works in New York, NY and Allentown, PA.
Fraleigh has been awarded numerous grants, residencies, and other recognitions including:
Alice Kimball English Traveling Fellowship
CORE Artist in Residence Program at the Glassell School of Art, Museum of Fine Arts
Eliza Randall Prize at the Glassell School of Art, Museum of Fine Arts
CACHH, Individual Artist Grant Fellowship, Houston, TX
Faculty Research and Development Grant at Moravian College, Bethlehem, PA
Artist in Residence at the Kemper Museum of Contemporary Art, Kansas City, MO
Artist in Residence at Frans Masereel Centrum, Belgium
Artist in Residence at Can Serrat, El Bruc, Spain
Artist in Residence at the Bemis Center for Contemporary Arts, Omaha, NE
Galveston Artist Residency, Galveston, TX (deferred)
Studio member at the Elizabeth Foundation for the Arts, New York, NY
Nomination - Joan Mitchell Foundation Award
Nomination - Louis Comfort Tiffany Grant
---
Patrons requesting accommodations or services at Wilkes University or Wilkes University-sponsored events in accordance with The Americans with Disabilities Act (ADA) Title III: Public Accommodations are asked to contact the University at 1-800-Wilkes-U to request such services/accommodations. It is recommended that requests be made at least 48 hours prior to any event.