American Illustration & Comic Art
From the Sordoni Collection

April 7 - May 20, 2018
Opening Reception: 4:30 - 6 p.m. • April 7, 2018
From Disney to Playboy and billions of Sunday morning papers in between, the art of illustration is tightly ingrained in the American zeitgeist. Narrative illustration is unique in its ability to be harrowing, hilarious, or politically motivating, at times simultaneously. Though often used as advertisement, these works also stand alone as art in their own right.
The Sordoni Art Gallery at Wilkes University presents Selections from the Sordoni Collection of American Illustration and Comic Art from April 7 to May 20. The
exhibition, which includes 135 works by over 100 artists, is curated by Stanley I. Grand, Ph. D. from the private collection of Andrew J. Sordoni, III. The Sordoni family established the Gallery at Wilkes University in 1973.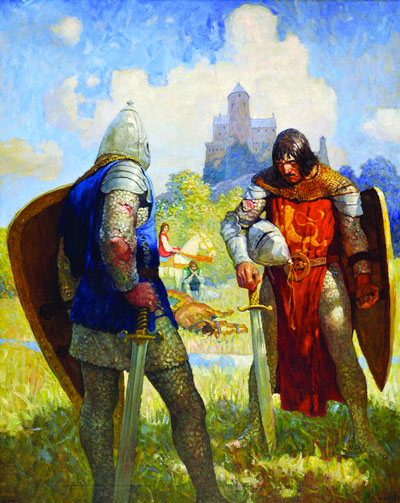 Selections from the Sordoni Collection of American Illustration and Comic Art spans over 100 years of advertising, animation, literature, and "funnies." The illustrated works vary in medium, technique, and intent, however, they all possess the unique ability to tell a story at a glance. Though, some of those stories are stranger than others.
Assembled over 50 years, the exhibition includes notable illustrations by Norman Rockwell, J.C. Leyendecker, N.C. Wyeth, Maxfield Parrish, and Frank Schoonover. George Herriman, Milton Caniff, and Charles Schulz are among the comic strip artists represented. Cartoons that appeared in periodicals such as The New Yorker, Saturday Evening Post, Playboy, or The National Lampoon by Buck Brown, John Caldwell, and Charles Rodrigues are also on view.
---
Patrons requesting accommodations or services at Wilkes University or Wilkes University-sponsored events in accordance with The Americans with Disabilities Act (ADA) Title III: Public Accommodations are asked to contact the University at 1-800-Wilkes-U to request such services/accommodations. It is recommended that requests be made at least 48 hours prior to any event.