Ross Hall is a co-ed living environment.
The capacity of this building is 15 beds with a support staff of one RA. Singles, doubles, and triples are offered as housing options.
Ross Hall features an intricately carved main stairwell, colorfully accented by stained-glass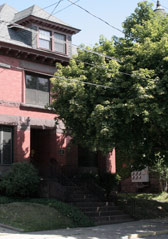 windows. The Cross Cultural Dialogue Living Learning Community resides in this unique building!
If you were at Wilkes before 1967,
Ross Hall was still the home of Dr. N. Frederick Schappert, a physician. Wilkes bought the home in 1967, and named it in honor of the Ross family, who aided in the development of Luzerne County.

The Romanesque-style building was built around 1896. Its property was originally part of the Atherton lot whose home stood at 36 West River Street, the current location of Waller Hall North.
Mansion-style living
Single - Double - Triple occupancy
Houses up to 17 students

Single Sex -

first-year student(s) Residence Hall
Meal plan mandatory
Lounge and laundry facilities on first floor
Housekeeping responsible for common areas and bathrooms
Support staff of 1 Resident Assistant
Not air conditioned
Interested in learning more? Find out more information about Wilkes University academic, campus and student life with a personalized visit.