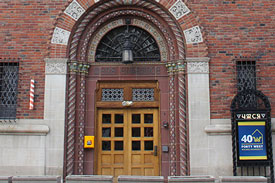 Located on the top three floors of the YMCA, the apartments at 40 West have some of the best views in the city.
These fully furnished and air-conditioned spaces are a great home-away-from-home for our co-ed sophomores, juniors and seniors – and your key comes with a free YMCA membership.
Apartment-style living
Double, Triple, and Quad occupancy
Co-ed upper-class student(s) residence hall
Meal plan mandatory
Houses up to 59 students
Fully furnished apartments
Students responsible for cleaning apartment
Air conditioned
Support staff of 2 resident Assistants and 2 Resident Staff Advisors
Interested in learning more? Find out more information about Wilkes University academic, campus and student life with a personalized visit.