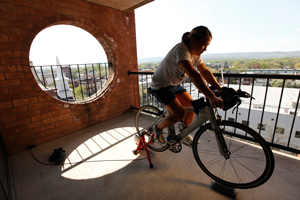 University Towers is the most in-demand housing at Wilkes.
For co-ed sophomores, juniors and seniors, the high-rise offers the independence of off-campus living with the amenities of on-campus housing. Located across from Starbucks and next to Public Safety and the parking garage, each apartment has its own balcony with a spectacular view of the city.
Apartment-style living
Double – Triple occupancy
upper-class student(s) Residence Hall
Thirteen floors
Houses up to 353 students
Meal plan mandatory
Kitchen: full size refrigerator, stove/oven, cabinet space
Laundry facilities located on each floor
Balcony for each apartment
Air conditioned
Elevators
Support staff of 1 Resident Assistant for each floor
Jane D.

Res. Assist. 2015-16
"University Tower is conveniently located near the parking garage, the Sidhu School of Business and Leadership, and best of all Starbucks. Plus, all of the dorms offer great views of the river or downtown. There are washers and dryers available on every floor, so you don't have to lug your dirty clothes very far. There's plenty to do nearby. University Towers is located just a few blocks from several restaurants, the movie theater, and plenty of shopping. I would highly recommend this housing option - you won't be disappointed."
Interested in learning more? Find out more information about Wilkes University academic, campus and student life with a personalized visit.
---
University Towers Multimedia
Student Produced Video