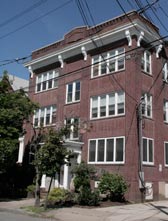 A former apartment building, Sullivan Hall is now one of the University's largest residences for co-ed sophomores, juniors and seniors.
Close to the Henry Student Center, Sullivan puts you at the center of student life at Wilkes.
Traditional-style housing
Co-ed first-year student(s) and upper-class student(s) Residence Hall
Singles - Doubles - Triples available
Houses up to 38 students
Meal plan mandatory
Kitchen, lounge, and laundry facilities located on first floor
Housekeeping responsible for common area and common bathrooms
Not air conditioned
Support staff of 2 Resident Assistants
Interested in learning more? Find out more information about Wilkes University academic, campus and student life with a personalized visit.