Request Access
To get access to your web pages on wilkes.edu within Omni CMS, please contact Web Services at brittany.terpstra@wilkes.edu to schedule a training session.
The DirectEdit Link
The DirectEdit Link is the simplest way to log in and go directly to the page you need to edit. It is a "hidden" link on every published webpage that you can use to access the Omni CMS interface.
The DirectEdit link is the © sign in the footer of wilkes.edu. Clicking the link prompts you to log in using your department assigned credentials.
Assuming you have editing permissions for that page and that you logged in successfully, you will then be taken to the Edit View for the page. From there, you will be able to edit any editable regions and will also be able to navigate to other pages and information that you have access to using the Omni CMS menus.
How to Login to Omni CMS
Editing a Page
You can edit pages in Omni CMS using the Classic Editor interface. This editor allows you to make changes to your web page content in an easy to use word processing environment.
Submitting a Page
Once edits are complete, you need to submit your page for approval for those changes to be reviewed and published. Once published by the approver, changes will be applied.
How to Edit Web Content
How to Edit Tables & Accordions
Omni CMS Edit & Toolbar Cheatsheet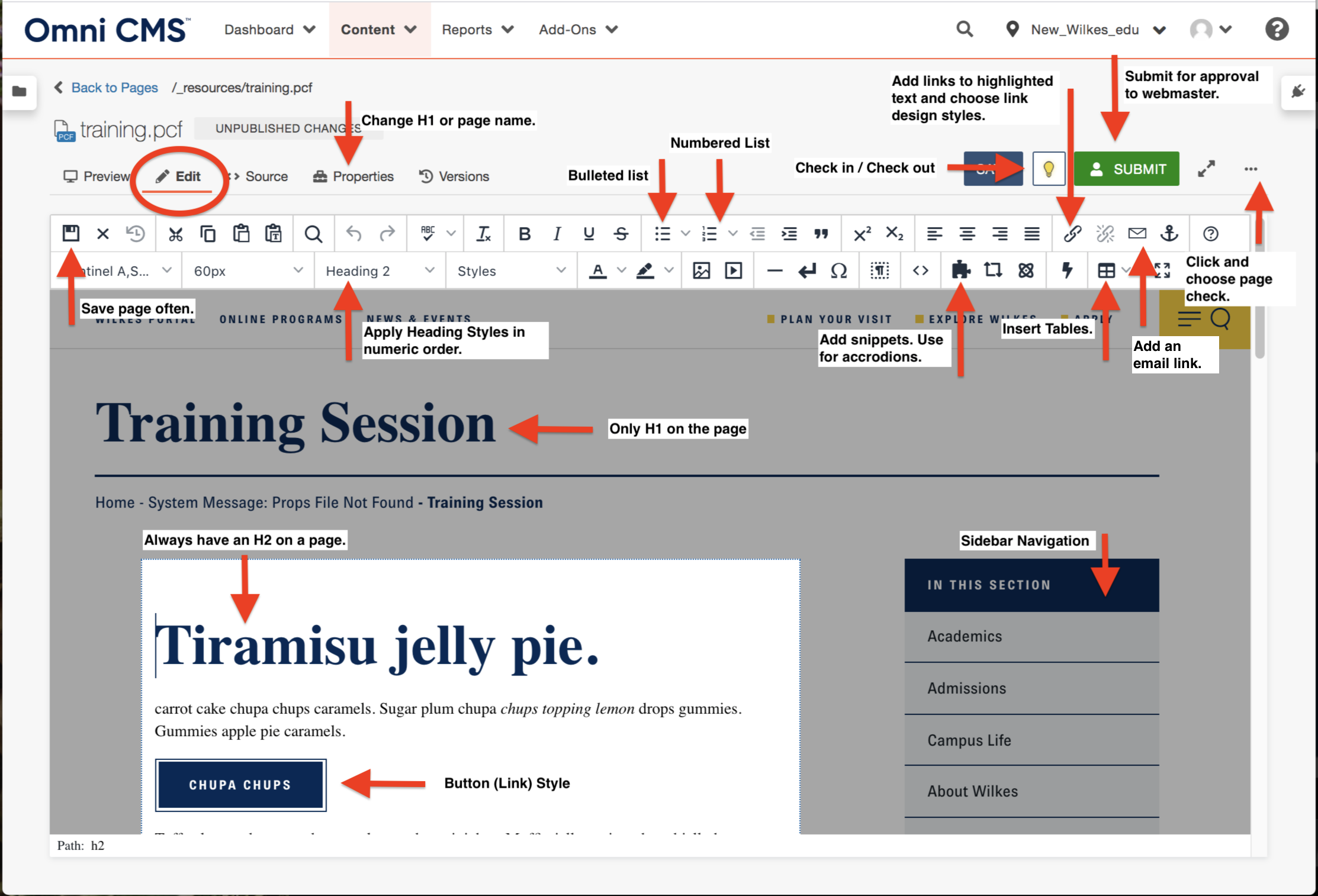 Download
Review Cheatsheet
Edit - In order to edit, users must be in the edit preview.
Properties - Change H1 or page names.
Bulleted list, Numbered list - transform content to design elements
Lightbulb - Check in/Check out the web page
Link Icon - Add links to highlighted text and choose link design styles
Save Icon - Save changes often
Text Style Drop-down - Apply heading styles in numeric order
Puzzle Piece Icon - Add snippets, such as accordions
Table Icon - Use to insert and edit tables
Envelope Icon - Add an email link
Three dots Icon - Page check prior to submission
Headers - H1 is already in use and must be followed by an H2
Sidebar Navigation - Listed links in the right column
Submit Button - Submit changes to approver when edits are complete