The Max Rosenn Lecture in Law and Humanities was established at Wilkes University in 1980 in recognition of Judge Rosenn's exceptional contributions to public service.
About the Rosenn Lecture Series
About The Honorable Judge Max Rosenn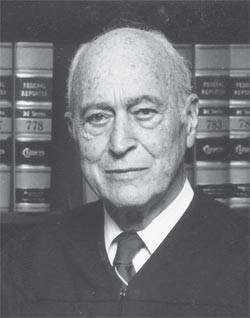 Judge Max Rosenn's long career as a public servant spanned many fields, including law, philanthropy, public welfare, health and religion. He made innumerable contributions to the enhancement of northeastern Pennsylvania, to state government, and to the federal judiciary. Following the Hurricane Agnes Disaster of 1972, he played a vital role in the rehabilitation of Greater Wilkes-Barre and its many neighboring communities as chairman of the Flood Recovery Task Force for Wyoming Valley.
After receiving an undergraduate degree from Cornell University and a law degree from the University of Pennsylvania, Judge Rosenn commenced his legal career. He interrupted that career to enter military service in World War II. After several years in the South Pacific, he returned to his wife and sons and resumed the practice of law. He entered state government in 1966 as secretary of public welfare for the Commonwealth of Pennsylvania. As secretary, Judge Rosenn also served as a member of the cabinet of Governor William W. Scranton and in the cabinet of his successor, Raymond Shafer, and as chairman of the Governor's Council for Human Services. Following his resignation as Secretary and resumption of the practice of law, he served as chairman of the Pennsylvania Human Relations Commission and chairman of the Legislative Executive Task Force to Restructure Human Services for Pennsylvania. He also served as a member of the 1968 Governor's Commission to Revise the Public Employee Laws of Pennsylvania. President Nixon appointed him to the United States Court of Appeals in 1970.
He and wife, Tillie, were lifetime residents of the Wyoming Valley, have two sons, Professor Keith and Dr. Daniel, and six grandchildren.
In recognition of his exceptional contributions and his warm relationship with them, Judge Rosenn's former law clerks and former law firm Rosenn, Jenkins & Greenwald, with the assistance of his family and friends, established in 1980 the Max Rosenn Lecture Series in Law and Humanities.
Past Speakers
The Rosenn Lecture Series has brought speakers with expertise in diverse fields and interests, including Kareem Abdul-Jabbar, Bryan Stevenson, Anna Deavere Smith, Anthony Lewis, Cory Booker and Bob Woodward.
Terry Gross | Award-winning host of NPR's Fresh Air | 2021
Bryan Stevenson | Attorney, human rights activist, executive director of the Equal Justice Intiative, and Author | 2019
Kareem Abdul-Jabbar | All-time Leading Scorer in NBA history, New York Times best-selling author, Civil Rights Activist | 2018
Anna Deavere Smith | Playwright, actor, and professor | 2017
Ron Prosor | Abba Eban Chair of International Diplomacy at the Interdisciplinary Center Herzliya (IDC) | 2016
Brian Greene | String Theorist | 2015
Richard Lugar | Retired United States Senator | 2014
Noah Feldman | Bemis Professor - Harvard University | 2013
Cory Booker | Mayor - Newark, New Jersey | 2012
Michelle Rhee | Founder and CEO of StudentsFIrst | 2011
Greg Mortenson | Best-selling author and humanitarian | 2010
Zanny Minton-Beddoes | Economics Editor, The Economist | 2009
Richard Leakey | Paleoanthropologist | 2008
Christopher Dillon Quinn | Award-winning documentary film director and John Bul Dau | one of The Lost Boys of Sudan | 2007
Bob Woodward | Assistant Managing Editor of the Washington Post | 2006
Irshad Manji | Award-winning journalist | 2005
Amy Chua | Author, Yale Law School Professor | 2004
Robin Wright | Author and Chief diplomatic correspondent | 2003
Fareed Zakaria | Editor if Newsweek International | 2002
Norman Mailer | Novelist, Biographer, and Historian | 2001
David Halberstam | Author, Journalist, and Historian | 2000
Abner J. Mikva | Distinguished Visiting Professor of Law and Senior Fellow, IGPA University of Illinois | 1999
Morris S. Dees Jr. | Chief Trial Counsel, Southern Poverty Law Center | 1998
Paul Simon | Retired United States Senator | 1997
Honorable A. Leon Higginbotham Jr. | Chief Judge Emeritus, United States Court of Appeals | 1996
Doris Kearns Goodwin, Ph.D. | Author, Historian | 1995
Tom J. Farer, J.D. | Director, International Relations Program | 1994
Leslie H. Gelb, Ph.D. | Author, Journalist, New York Times Columnist | 1993
T. Berry Brazelton, M.D. | Author, Educator, Renowned Pediatrician | 1992
John Paul Stevens | Justice, U.S. Supreme Court | 1991
Ambler Moss | Dean, School of International Studies, University of Miami | 1990
Nina Totenberg | Legal Affairs Correspondent | 1989
Malcolm Toon | Former U.S. Ambassador to the Soviet Union | 1988
Bettina Gregory | Senior Correspondent | 1987
Henry Steele Commager | Historian, Professor of Law, Amherst College | 1986
Richard Schifter | Former U.S. Ambassador | 1985
Joseph J. Sisco | Former Undersecretary of State | 1984
Edwin Newman | Correspondent, NBC News | 1983
Anthony Lewis | Columnist, New York Times | 1982
Support the Rosenn Lecture Series
The speakers presented by the Max Rosenn Lecture Series in Law and Humanities are made possible through generous contributions to the Max Rosenn Endowment. Your support enables us to continue the tradition of bringing renowned speakers and offering a venue that is free and open to the public.
Support the Max Rosenn Lecture Series
Interested in future lectures at Wilkes University?
Provide the following information to be notified of future events at Wilkes University.