2024 Speaker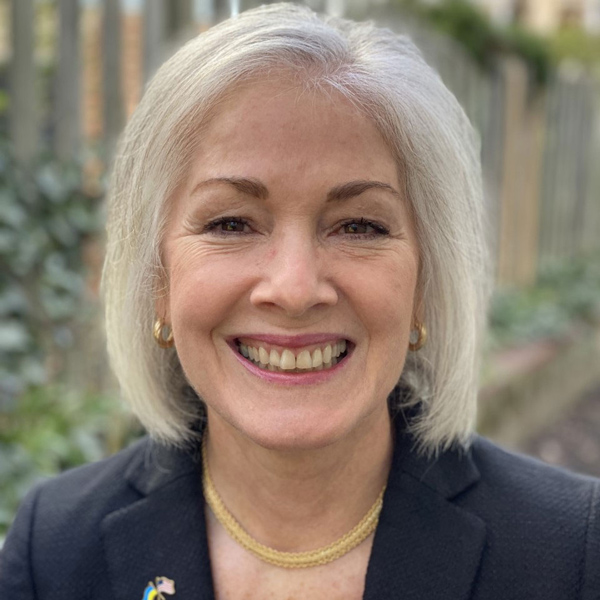 Ambassador Marie Yovanovitch
2 p.m. | Sunday, March 10, 2024
Dorothy Dickson Darte Center for the Performing Arts
The former U.S. Ambassador to Ukraine and New York Times Bestselling Author of Lessons from the Edge will share insights on the region and the current crisis as well as experiences from her 33-year career in the U.S. Foreign Service.
This lecture is free and open to the public. Registration is required.
Marie Yovanovitch served three times as U.S. Ambassador, most recently in Kyiv as the U.S. Ambassador to Ukraine. She previously served as U.S. Ambassador to the Kyrgyz Republic from 2005-08 and the Republic of Armenia from 2008-11. Yovanovitch retired from the Foreign Service in 2020 and is currently a Senior Fellow at the Carnegie Endowment for International Peace and a non-Resident Fellow at the Institute for the Study of Diplomacy at Georgetown University.
Born into a family that survived both Soviet and Nazi terror before emigrating to the U.S., Yovanovitch rose to the top of her profession in the crucible of the former USSR. Following early assignments in Moscow, London, Ottawa and Mogadishu, she served as Deputy Director of the Russia Desk and then, as a career member of the Senior Foreign Service, she was named Deputy Chief in Ukraine.
Within the Department of State, Yovanovitch worked on the Russia desk, the Office of European Security Affairs and the Operations Center. She also served as the Dean of the School of Language Studies at the Foreign Service Institute, U.S. Department of State, and as the Deputy Commandant and International Advisor at the Dwight D. Eisenhower School for National Security and Resource Strategy, National Defense University.
Yovanovitch earned the Senior Foreign Service Performance Award eight times and the State Department's Superior Honor Award on nine occasions. She is the recipient of two Presidential Distinguished Service Awards and the Secretary's Diplomacy in Human Rights Award.
Following her retirement, Yovanovitch received the Trainor Award for Excellence in the Conduct of Diplomacy from Georgetown University, the inaugural Richard G. Lugar Award from Indiana University, the 2020 PEN/Benenson Courage Award from Pen/America, the Morgenthau Award from the Armenian Assembly of America, the American Spirit Award for Distinguished Public Service from the Common Good and the Paul H. Douglas Award for Ethics in Government.
Yovanovitch's memoir, Lessons from the Edge, released in 2022, was an instant New York Times bestseller. The late Madeleine Albright called the book "A brilliant, engaging, and inspiring memoir from one of America's wisest and most courageous diplomats—essential reading for current policymakers, aspiring public servants, and anyone who cares about America's role in the world."
Past Speakers
The Rosenn Lecture Series has brought speakers with expertise in diverse fields and interests, including Kareem Abdul-Jabbar, Bryan Stevenson, Anna Deavere Smith, Anthony Lewis, Cory Booker and Bob Woodward.
Jill Lepore | Award-winning Author & Historian, Journalist and Professor of History | 2023
Jon Meacham | Presidential Historian and Pulitzer Prize-Winning Author | 2022
Terry Gross | Award-winning host of NPR's Fresh Air | 2021
Bryan Stevenson | Attorney, human rights activist, executive director of the Equal Justice Intiative, and Author | 2019
Kareem Abdul-Jabbar | All-time Leading Scorer in NBA history, New York Times best-selling author, Civil Rights Activist | 2018
Anna Deavere Smith | Playwright, actor, and professor | 2017
Ron Prosor | Abba Eban Chair of International Diplomacy at the Interdisciplinary Center Herzliya (IDC) | 2016
Brian Greene | String Theorist | 2015
Richard Lugar | Retired United States Senator | 2014
Noah Feldman | Bemis Professor - Harvard University | 2013
Cory Booker | Mayor - Newark, New Jersey | 2012
Michelle Rhee | Founder and CEO of StudentsFIrst | 2011
Greg Mortenson | Best-selling author and humanitarian | 2010
Zanny Minton-Beddoes | Economics Editor, The Economist | 2009
Richard Leakey | Paleoanthropologist | 2008
Christopher Dillon Quinn | Award-winning documentary film director and John Bul Dau | one of The Lost Boys of Sudan | 2007
Bob Woodward | Assistant Managing Editor of the Washington Post | 2006
Irshad Manji | Award-winning journalist | 2005
Amy Chua | Author, Yale Law School Professor | 2004
Robin Wright | Author and Chief diplomatic correspondent | 2003
Fareed Zakaria | Editor if Newsweek International | 2002
Norman Mailer | Novelist, Biographer, and Historian | 2001
David Halberstam | Author, Journalist, and Historian | 2000
Abner J. Mikva | Distinguished Visiting Professor of Law and Senior Fellow, IGPA University of Illinois | 1999
Morris S. Dees Jr. | Chief Trial Counsel, Southern Poverty Law Center | 1998
Paul Simon | Retired United States Senator | 1997
Honorable A. Leon Higginbotham Jr. | Chief Judge Emeritus, United States Court of Appeals | 1996
Doris Kearns Goodwin, Ph.D. | Author, Historian | 1995
Tom J. Farer, J.D. | Director, International Relations Program | 1994
Leslie H. Gelb, Ph.D. | Author, Journalist, New York Times Columnist | 1993
T. Berry Brazelton, M.D. | Author, Educator, Renowned Pediatrician | 1992
John Paul Stevens | Justice, U.S. Supreme Court | 1991
Ambler Moss | Dean, School of International Studies, University of Miami | 1990
Nina Totenberg | Legal Affairs Correspondent | 1989
Malcolm Toon | Former U.S. Ambassador to the Soviet Union | 1988
Bettina Gregory | Senior Correspondent | 1987
Henry Steele Commager | Historian, Professor of Law, Amherst College | 1986
Richard Schifter | Former U.S. Ambassador | 1985
Joseph J. Sisco | Former Undersecretary of State | 1984
Edwin Newman | Correspondent, NBC News | 1983
Anthony Lewis | Columnist, New York Times | 1982