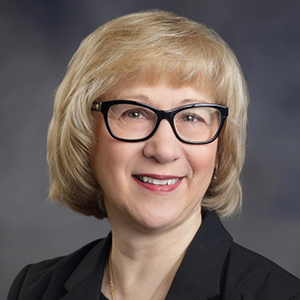 Welcome From the Dean
On behalf of our nursing faculty and staff, welcome to the Wilkes University Passan School of Nursing!
With a more than 40-year history of educating nurses, the Passan School of Nursing offers an extensive array of undergraduate and graduate concentrations. Whether you are beginning your career, looking to change your career or desire an advanced degree, Passan School of Nursing is the place for you. Our school has a strong commitment to the professional practice of nursing. Faculty and staff are dedicated and resourceful providing students with personalized attention.
My favorite thing about Wilkes is the people I met here, whether they were students, professors, coaches or other staff members. Everyone works so hard to make sure the students are well taken care of, well educated and safe.

Celine Podlesney '20 | Nursing major and softball student-athlete
The Passan School of Nursing has instilled in me the leadership qualities and nursing skills needed for me to begin my career, and I could not be more thankful.

Megan Kramer '19 | Nursing major
Clinical Simulation Center Builds Hands-On Skills
Hands-on learning activities in Wilkes' Clinical Nursing Simulation Center help students build on knowledge they gain in the classroom. High- and low-fidelity manikins talk and move to simulate real patient interactions.