Hosted by the Wilkes University English Department, the Allan Hamilton Dickson Spring Writers Series features a variety of authors, poets, directors and others accomplished writers annually. Guest speakers frequently read selections of their works and answer questions at the event.
All events are free and open to the public.
2024 Guest Artists
Alison Bechdel
Feb. 13, 7 p.m. | Dorothy Dickson Darte Center
Registration is Encouraged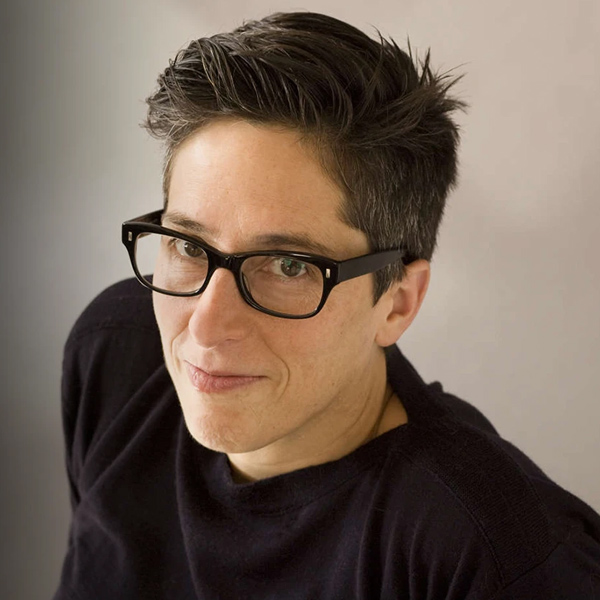 Alison Bechdel is an internationally beloved cartoonist whose darkly humorous graphic memoirs, astute writing and evocative drawing have forged an unlikely intimacy with a wide and disparate range of readers.
For twenty-five years Alison self-syndicated Dykes to Watch Out For. The award-winning generational chronicle has been called "one of the pre-eminent oeuvres in the comics genre, period" by Ms. Magazine. From the strip was born the now famous "Bechdel Test," which measures gender bias in film.
More About Alison Bechdel

Her first graphic novel Fun Home: A Family Tragicomic was named the Best Book of the year by TIME, describing the tightly architected investigation into her closeted bisexual father's suicide "a masterpiece about two people who live in the same house but different worlds, and their mysterious debts to each other." Fun Home was a finalist for a National Book Critics Circle Award and was adapted into a Broadway musical that has won five Tony Awards, including "Best Musical." Alison is also the author of Are You My Mother? A Comic Drama which delves into her relationship with her mother, as well as the theories of the 20th century British psychoanalyst Donald Winnicott. Her latest work, a profoundly affecting graphic memoir titled The Secret to Superhuman Strength, was released in 2021. The Guardian calls the memoir, "quietly astonishing" and "extraordinarily generous."

Alison was the recipient of a 2012 Guggenheim Fellowship and in 2014 she received a MacArthur "Genius" Grant. In their citation the MacArthur Foundation noted that Alison "is changing our notions of the contemporary memoir and expanding the expressive potential of the graphic form." In 2017, Alison was ushered in as Vermont's third cartoonist laureate.
Leah Vernon
March 20, 7 p.m. | Kirby Hall Salon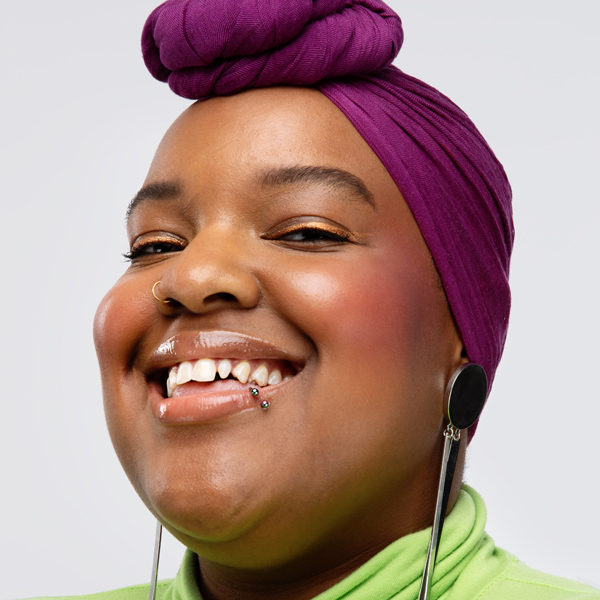 Leah Vernon, also known as Leah V, is an international plus-size Hijabi model, award-winning author, inclusive content creator, body-positive activist and inclusion consultant. Her content has garnered over four million views combined and her face has been plastered on billboards in Times Square.
More About Leah Vernon

Vernon is a Rothschild Fellow and Movers and Makers Awardee, and was shortlisted for the Alpine Fellowship. Vernon has been featured in hundreds of media outlets including The New York Times and Buzzfeed.

Vernon tells her story in the memoir Unashamed: Musings of a Fat, Black Muslim. She also explores futuristic fiction in her dystopian novels The Union and The Dissent.
About the Allan Hamilton Dickson Writers Series
Amy E. Earhart
Amy E. Earhart is Associate Professor of English and affiliated faculty of Africana Studies at Texas A&M University. A 2020 Texas A&M University Presidential Impact Fellow and a 2019 Texas A&M University Arts & Humanities Fellow, Earhart has participated in grants and fellowship received from the NEH, ACLS, and the Mellon Foundation. In 2020, Earhart received a NEH-Mellon Fellowship for Digital Publication for her book length digital project "Digital Humanities and the Infrastructures of Race in African-American Literature."
Ann E. Wallace, PhD
Ann E. Wallace, PhD, is Poet Laureate of Jersey City, New Jersey. A survivor of ovarian cancer, woman with multiple sclerosis and COVID longhauler, she has written across multiple genres, from poetry to creative nonfiction to literary scholarship, on the experience and rhetoric of illness.
Zakes Mda
Zakes Mda is a South African and American-African Appalachian writer, painter and music composer. He has published 24 books, including 11 novels, plus collections of plays, poetry and a monograph on the theory and practice of theater-for-development. Mda's writings have been translated into 22 languages. His paintings have been exhibited in South Africa, Lesotho and the U.S. and are in collections in those countries, as well as Spain and Sweden.
Margaret Atwood
Margaret Atwood has been sharing the power of the written word since publication of her first novel, The Edible Woman, in 1969. She has crafted more than 50 volumes of fiction, non-fiction, poetry and children's literature. The critically acclaimed television version of her 1985 novel The Handmaid's Tale earned 54 Emmy nominations and 15 awards. The series has been renewed for a fifth season. The
dystopian work's follow-up novel, The Testaments, sold out its initial half-million copy run, requiring two additional printings in just over a week and breaking first-day sales records for Penguin Random House titles that year.
Jason Schneiderman
Jason Schneiderman is the author of four books of poems, most recently Hold Me Tight (Red Hen, 2020). He edited the anthology Queer: A Reader for Writers (Oxford University Press, 2016). His poems and essays have appeared in numerous journals and anthologies. Schneiderman is a longstanding co-host of the podcast Painted Bride Quarterly Slush Pile. His awards include the Shestack Award and a Fulbright Fellowship. He is an associate professor of English at the Borough of Manhattan Community College and teaches in the MFA Program for Writers at Warren Wilson College.
Richard Boada
Richard Boada is author of three poetry collections: We Find Each Other in the Darkness (Texas Review Press), The Error of Nostalgia (Texas Review Press), and Archipelago Sinking (Finishing Line Press). He has been a finalist for the Mississippi Institute of Arts and Letters Poetry Book Prize and is a recipient of a Mississippi Arts Commission Poetry Fellowship. His poems appear in the Southern Poetry Anthology, Urban Voices: 51 Poets/51 Poems, Crab Orchard Review, Rhino, Third Coast and the North American Review among others. He teaches for the West Virginia Wesleyan College Low Residency MFA Program and Lane College.
Howard Norman
Lannan Award winner Howard Norman is a novelist, memoirist, and children's author. His works include the memoir I Hate To Leave This Beautiful Place and the novel The Ghost Clause. His books have been translated into fourteen languages and awarded the Harold Morton Landon Prize in Translation from the Academy of American Poets.
Poupeh Missaghi
Poupeh Missaghi is a writer, educator, translator of Persian and the Iran editor-at-large for Asymptotejournal.com. Her works of nonfiction, fiction and translations have appeared in numerous journals and she has several books of translation published in Iran.
Zach Linge
Zach Linge's poems appear in AGNI, Best New Poets 2020, New England Review, Poetry and elsewhere. Their second refereed article was published in a special issue of African American Review on the works of Percival Everett.
Alice Sola Kim
Alice Sola Kim's writing has appeared in publications such as The Cut, Tin House, McSweeney's, Lightspeed, and The Best American Science Fiction and Fantasy 2017. She has received grants and fellowships from the Elizabeth George Foundation, the MacDowell Colony and Bread Loaf Writers' Conference, and won a 2016 Whiting Award.
Dave Eggers
Dave Eggers is a Pulitzer Prize finalist and author of multiple books, including Your Fathers, Where Are They? And the Prophets, Do They Live Forever?, The Circle, A Hologram for the King and A Heartbreaking Work of Staggering Genius.
Alex Burns
Alex Burns is the founding artistic director of Quintessence Theatre Group, an ensemble theater dedicated to the performance and adaptation of epic works of classic literature and drama in Philadelphia.
Ben Lerner
Ben Lerner wrote three books of poetry (The Lichtenberg Figures, Angle of Yaw and Mean Free Path), two novels (Leaving the Atocha Station and 10:04) and several collaborations with artists (including Blossom, with Thomas Demand). He has received fellowships from the Fulbright, Guggenheim and MacArthur foundations, among other awards.
Jean McGarry
Jean McGarry's professional experience includes author, newspaper reporter, translator and university professor. McGarry's stories have appeared in The Yale Review, Southwest Review and The New Yorker, among others.
Valeria Luiselli
Valeria Luiselli won the LA Times Book Prize for Fiction 2016. Her works have appeared in 14 languages and multiple publications, including The New Yorker, Asymptote, McSweeney and Granta.
Henry Veggian
Henry Veggian is a Senior Lecturer in American Literature at the University of North Carolina - Chapel Hill. His work has appeared in boundary 2, Modern Fiction Studies, American Studies, Reader and Quaderni d'Italianistica.
Rivka Galchen