Before You Apply
Before you apply for a Federal Work Study job, please check your Financial Aid award for the current academic year to see if you are eligible. If you have any questions about your eligibility, please contact us at 570-408-4512 or workstudy@wilkes.edu.
If you are not eligible for Federal Work Study, you may only apply for a job that is Institutional Work Study. Please check with the hiring supervisor to make sure that the department has funds available before applying for an Institutional Work Study job.
Steps to Apply
Procedures for applying for a Federal or Institutional Work Study job: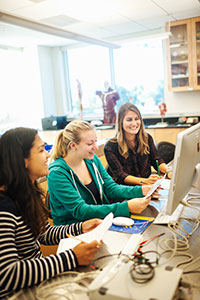 Review
Review the current job openings.
Contact
Students should consult with supervisors regarding all position requirements.
Receiving an Offer
If you are offered a job, the Hiring Supervisor will begin the Etrieve process for the Work Study Application.
STEP 1 on the application must be completed by your hiring supervisor, The application will then be automatically forwarded to you to complete STEP 2.
STEP 2 on the application must be completed by you. Please be sure to check any applicable boxes and finish STEP 2. The application will be forwarded to Human Resources automatically. If you checked the box to indicate that you have never worked at Wilkes University, please complete the new student worker forms. You will be contacted to schedule an appointment for your Form I-9 completion.
STEP 3 on the application must be completed by Amy Terkowski in the Student Financial Services Office.
All signers of the Work Study application will receive an email when the Etrieve process is complete and work is authorized to begin. An email with TimeTrak instructions will follow to indicate the position code and authorized work dates.
Contact
workstudy@wilkes.edu
570-408-4512
Office hours are by appointment only.
Additional Information
Students can work a maximum of 20 hours per week during the academic year and 30 hours per week during the summer term.
Work cannot occur during class time.
A student is permitted to work a maximum of two jobs per term.
Form Links
Supervisor Workstudy Applications