Get the assistance you need from the Office of Student Financial Services
If you're concerned about paying for your education, you're not alone. Most people can't simply pull out a checkbook to cover the cost of college tuition. The good news is a Wilkes University education may be more affordable than you think.
Whether you're a high school or transfer student trying to find a college that's the perfect fit or an adult hoping to advance your career with a graduate degree, we're committed to working with you to make a Wilkes education as affordable as possible.
Student Financial Aid
We offer a variety of financial aid sources to help make your educational dreams come true. Follow the links below to learn about your financial aid options. Consider it a down payment on your future.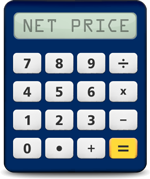 ---
The Wilkes Net Price Calculator is designed to help you estimate your scholarship and grant eligibility at Wilkes University.
Contact Us
Mailing Address:

84 W. South St., Wilkes Barre, PA 18766

Physical Address:

Capin Hall | 165 S. Franklin St., Wilkes Barre, PA 18706

Phone: