Register online or print your transcript.
Women's Golf Clinic
Play the game of a lifetime.
Did you ever want to try golf? Now is your chance. Wilkes Continuing Learning is offering a beginner course for women. This includes learning the different aspects of the game: the grip, stance, alignment and the swing. You will be given group and individual instruction. The course will be five - 2 hour sessions and one session on an actual course. Learning will be in a relaxed atmosphere with plenty of time for questions.
The instructor will be Beth Spencer. Beth has taught golf for 35 years. Currently the Women's Golf Coach at Wilkes, she has extensive knowledge of golf and how it is played
Dates:

Thursdays, May 18 - June 15 from 6-8 PM at Academy of Golf in Plains.
Saturday, June 17 at 3 p.m. at Lehman Golf Club

Fee: $155
---
Dr. Lori's Virtual Antiques Appraisal Comedy Show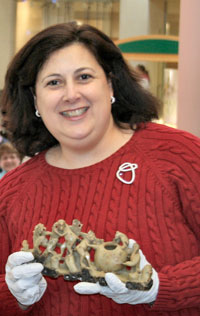 Join Dr. Lori Verderame for this one-evening virtual class on how to tell if your prized possessions hold more than sentimental value. Each participant will receive an appraisal on one item. The class will be held via Zoom - a link will be emailed the morning of the class.
Dr. Lori is an award-winning TV personality and the star antiques appraiser on the hit TV reality show Auction Kings which airs on the Discovery channel. Dr. Lori shares insider information about antiques and to 9.5 million readers through her internationally syndicated column featured in 406 newspapers worldwide and on her blog for Lifetime Television. Dr. Lori resides in Bucks County, PA.
After years teaching in university classrooms and working as a museum director, Dr. Lori was inspired to start appraising antiques after an unexpected encounter with a 75 year old woman. "This woman told me her story. She had recently sold an historic George Washington document for $50 that was worth $50,000! She said she needed the $50 to pay her electric bill. When I met her, I thought, this woman could be my mother--anyone could make that mistake." Dr. Lori says, "That woman's mistake inspired me to share my education and expertise. So, I do just that presenting over 150 antique appraisal shows and appraising 20,000 objects that audiences bring me to review every year."