To register online for these classes, please click here.
Pottery
9 people per class
Explore the basic methods and techniques of wheel throwing. Experiment in surface decorations, glazing, and kiln firing. Participants receive individual instruction, enabling beginners and advanced students to register. Each participant is limited to 15 pieces, depending on size.

Mondays, 6:00 p.m. to 9:00 p.m.
TBA
Fee: $255/session (includes supplies)
Instructor: Jean Adams
---
Dr. Lori's Antiques Appraisal Comedy Show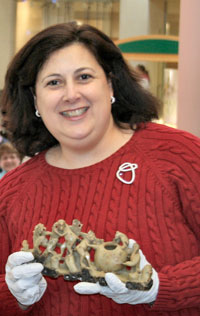 Join Dr. Lori Verderame for this one-evening class on how to tell if your prized possessions hold more than sentimental value. Each participant will receive appraisals on two items brought to the class (a perfect excuse to get answers about your collectibles!).
Dr. Lori is an award-winning TV personality and the star antiques appraiser on the hit TV reality show Auction Kings which airs on the Discovery channel. Dr. Lori shares insider information about antiques at www.DrLoriV.com and to 9.5 million readers through her internationally syndicated column featured in 406 newspapers worldwide and on her blog for Lifetime Television. Dr. Lori resides in Bucks County, PA.
After years teaching in university classrooms and working as a museum director, Dr. Lori was inspired to start appraising antiques after an unexpected encounter with a 75 year old woman. "This woman told me her story. She had recently sold an historic George Washington document for $50 that was worth $50,000! She said she needed the $50 to pay her electric bill. When I met her, I thought, this woman could be my mother--anyone could make that mistake." Dr. Lori says, "That woman's mistake inspired me to share my education and expertise. So, I do just that presenting over 150 antique appraisal shows and appraising 20,000 objects that audiences bring me to review every year."
Date: Tuesday, November 12, 2019
Fee: $30