To register online for these classes, please click here.
Under the Onion Domes: Those Mysterious Carpatho-Rusyns!
Today, there are many thousands of descendants of a somewhat mysterious and little know group of people who lived in the mountain valleys of the Carpathians in central Europe who settled in the coal patches of Northeast Pennsylvania. The webinar will discuss who these people are and how to identify them. Their unique religious heritage will be discussed. What drew them to the part of the U.S.? Some of their culture and history will be noted. Their journey to America and their settlement in the rust belt of the United States will be explored.
This webinar is geared to those just beginning their family odyssey into their origins. The critical information needed to find records in the ancestral homeland will be discussed. Sources of information in home, government, and church records will be explored. If you are successful in finding out these bits of information, then your continued genealogical journey in Europe will be fruitful. Perhaps some of you will discover your new cultural and ethnic identity.
Tom Peters is a retired professional genealogist who specialized in Slovak, Carpatho-Rusyn & German ancestral research. During his professional career, he successfully traced ancestors for his clients in France, Germany, Slovakia, Hungary, Poland, Ukraine, Italy, Netherlands, Norway, Sweden, Denmark, Ireland, Scotland, England and Switzerland. He taught Immigrant Ancestry courses in adult education systems and community colleges. He was a volunteer librarian for the North Caldwell, N.J., LDS Family History Library for the past 25 years. Tom delights in sharing his research experience, knowledge and techniques with anyone wishing to learn more about this addicting hobby of ours!
Date: Wednesday, February 3, 2021 7-8 PM (EST) via Zoom
Fee: $10 (all fees collected will go towards a Wilkes student scholarship)
---
Dr. Lori's Virtual Antiques Appraisal Comedy Show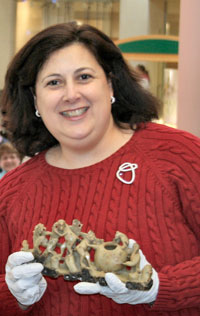 Join Dr. Lori Verderame for this one-evening virtual class on how to tell if your prized possessions hold more than sentimental value. Each participant will receive an appraisal on one item. The class will be held via Zoom - a link will be emailed the morning of the class.
Dr. Lori is an award-winning TV personality and the star antiques appraiser on the hit TV reality show Auction Kings which airs on the Discovery channel. Dr. Lori shares insider information about antiques at www.DrLoriV.com and to 9.5 million readers through her internationally syndicated column featured in 406 newspapers worldwide and on her blog for Lifetime Television. Dr. Lori resides in Bucks County, PA.
After years teaching in university classrooms and working as a museum director, Dr. Lori was inspired to start appraising antiques after an unexpected encounter with a 75 year old woman. "This woman told me her story. She had recently sold an historic George Washington document for $50 that was worth $50,000! She said she needed the $50 to pay her electric bill. When I met her, I thought, this woman could be my mother--anyone could make that mistake." Dr. Lori says, "That woman's mistake inspired me to share my education and expertise. So, I do just that presenting over 150 antique appraisal shows and appraising 20,000 objects that audiences bring me to review every year."
Date: Tuesday, February 16, 2021 6-8 PM (EST) via Zoom (CLASS FULL)
Fee:$30
Date: Tuesday, February 23, 2021 6-8 PM (EST) via Zoom - (CLASS FULL)
Fee: $30