Our History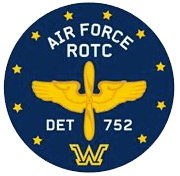 Between 1943 and 1944 more than 700 aviation cadets were educated at Wilkes as part of the Bucknell University Junior College U.S. Army Air Corps 6th College Training Detachment. Many of these aviation cadets went on to serve as pilots and navigators during World War II.
Through the efforts of Dr. Francis J. Michelini, Wilkes former President, In 1973 Congressman Daniel J. Flood announced that Wilkes (College) had been selected to host the AFROTC Program. Under the direction of their first commander, Colonel James Aikman, fourteen students were enrolled. In recent years, that number has increased by tenfold.
Since then, AFROTC Detachment 752 has trained and prepared hundreds of young men and women for future careers as USAF officers.