Welcome Counselors!
Wilkes is a University on the move. New, exciting majors, internship and study-abroad opportunities, in-demand sports, plus millions of dollars invested into state-of-the-art facilities, technology and campus improvements are transforming Wilkes into a first-class university for the 21st century.
Wilkes University Has What Your Students Are Looking For!
Small classes, an amazing campus, unlimited academic choices, exciting campus life, help and support for every student, an education that has value—and a job after graduation!
Apply to Wilkes
High school or transfer students who are interested in attending Wilkes can apply online. Our application for 2024 is available, and students may also apply with the The Common Application.
Financial Aid
A college education will be one of the biggest investments a student makes in their lifetime. At Wilkes, students earn a return on that investment.
Scholarship Opportunities
This year, we've taken the leap to offering our incoming students more than ever before. We've increased all of our scholarship levels and are now offering scholarships up to $27,000 in merit alone.
Early Decision
We're now offering Early Decision to those students who apply before Nov. 15. Early decision advantages include: priority housing, based on preference and availability, advanced registration for courses within intended field of study, access to department faculty for an early advising session, and scholarship priority, where students can maximize their scholarship potential by applying early with a FAFSA.
Test-optional
Wilkes University is test-optional through Fall 2024 for applicants of all majors. Students have the option to choose whether or not to submit test scores.
Program Finder
Wilkes University offers unparalleled academic opportunities. Students can use our online program finder to easily learn about the 45 majors we have to offer, and compare programs of interest.
Opportunities for Excellence
A Wilkes education extends far beyond the classroom. The combination of academic and extracurricular experiences students can pursue inside and outside of the classroom will increase the return on their education exponentially.
Wilkes offers numerous opportunities for students to challenge themselves and flourish. Students can pursue more rigorous coursework, tackle a research project, dive into community service, seek openings to take on leadership roles, try new clubs, meet new people and explore new interests. They can also dare to imagine and then create their own unique paths. Along the way, students become better prepared for careers, graduate school or professional school – not to mention this journey called life.
Colonel Emerging Leaders Award
Help us recognize talented high school juniors who will most benefit from the personal engagement and research opportunities that Wilkes University offers!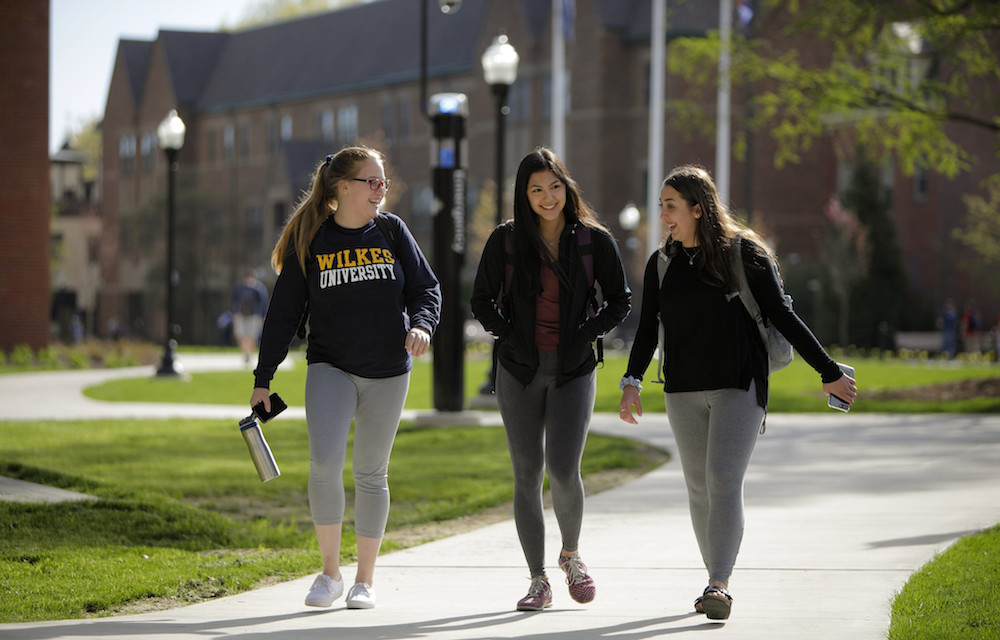 Wilkes Campus
Wilkes University is located on a beautiful 35-acre campus right in the midst of the historic city of Wilkes-Barre in northeastern Pennsylvania, within a few hours' drive of New York, Philadelphia, Baltimore and Washington, D.C. Over the years, Wilkes has acquired many of the beautiful mansions in the downtown area, and they serve as a charming addition to residence halls that include traditional dorms as well as high-rise apartments.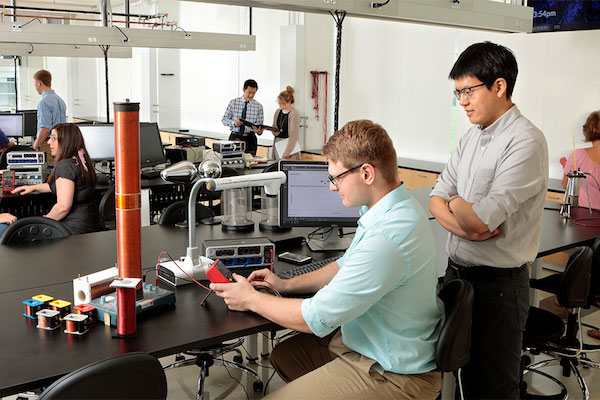 MARK ENGINEERING CENTER
Wilkes University is on the frontline of STEM fields with the state-of-the-art Mark Engineering Center, an $8 million dollar investment to enhance laboratory spaces for cutting-edge technologies. It includes additive manufacturing, bioengineering, high-speed computing, 3-D imaging and nanotechnology, all housed in flexible labs spaces conducive to collaboration.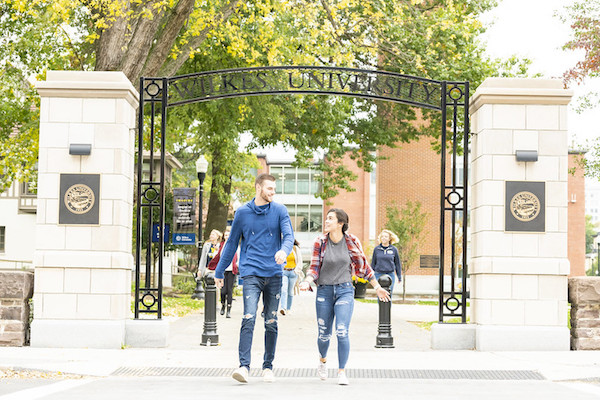 CAMPUS GATEWAY PROJECT
This new gateway connects Wilkes University to its historic hometown, Wilkes-Barre, in a beautiful, cohesive way. Iconic gateways welcome students and visitors to the heart of campus, and continue to the southern part of campus and the Henry Student Center. Wilkes has truly become a first-class residential campus community for its students.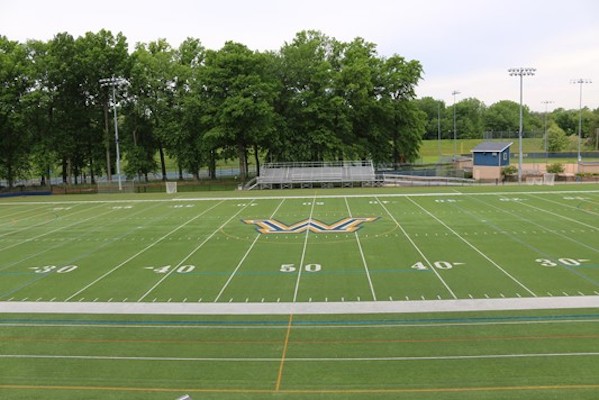 RALSTON ATHLETIC COMPLEX
A multimillion dollar renovation of the Ralston Athletic Complex includes a new multipurpose turf field, a first-class baseball stadium, a dedicated tennis center, new sidewalks, trees and spectator conveniences to elevate our facilities to match our already outstanding athletic teams.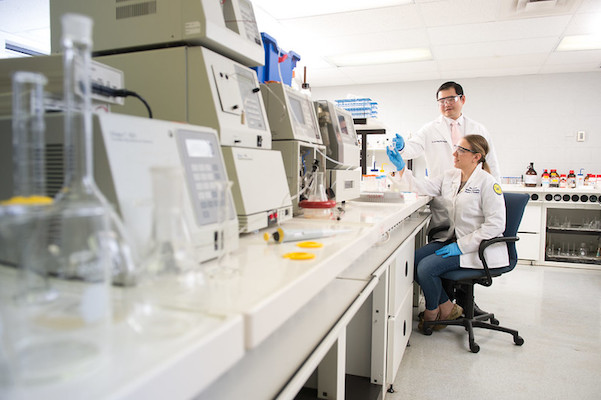 NESBITT SCHOOL OF PHARMACY
$2 million in upgrades to the Nesbitt School of Pharmacy will add new classrooms, conference rooms and collaboration spaces.
Answers to Student Questions
What is Wilkes University?

Wilkes University is a private, non-denominational University located in Wilkes-Barre, PA that offers all of the educational opportunities of a large university in the mentoring culture of a small college, open to all who show potential. Wilkes currently offers a total of 45 majors to incoming students, and have a university-wide job placement rate of 98%.

What kind of students go to Wilkes?

Wilkes opens doors and provides opportunity to all! Currently, Wilkes has about 2,200 undergraduate students from 23 states and 15 countries. Of these students, 26% identify as non-white and the male/female ratio is 53:47.

When should students apply?

Wilkes University has a rolling admissions cycle, but we advise that students apply early in the fall as the space available in some programs may be limited.

Is Wilkes on the Common App?

Yes! You can find Wilkes University on the Common App. Or you can apply online.

Is there a fee to apply?

There is no application fee for undergraduates programs.

How much does Wilkes cost?

Tuition for the 2022-2023 academic year is $39,134. Total expenses (including fees, books, supplies, room and board, transportation and personal expenses) for a resident student are estimated at

$61,760

. For a full breakdown, please visit our financial aid page.

Does Wilkes offer scholarships?

Yes! Wilkes offers merit based scholarships ranging from $18,000 to $27,000 per year (for four years) automatically to students who qualify.

What other kinds of financial aid are available?

Over 90% of our students receive some form of financial aid! Wilkes offers need-based grants to students who demonstrate financial need within university designated ranges. We strongly encourage students to begin scholarship searches early in their junior year of high school as many organizations have early deadlines.

What is the average class size?

The average class size at Wilkes is 18 and the ratio of students to faculty is approximately 12 to 1. More than 9 out of 10 Wilkes University faculty currently hold doctorates or terminal degrees, so you are being led by experts with long lists of real-world accomplishments.

Does Wilkes offer study abroad?

Yes! Wilkes offers several study abroad options, whether you want to spend a week, a month, or a semester based on your budget and comfort level. Recent destinations include Costa Rica, London, Spain, Tanzania, Columbia, Wales, and much more!

Where can a student check on the status of their application?

You can check on the status of your application by speaking directly with your admission counselor, or by logging in to the student account that you receive when you apply.

Does Wilkes have athletics?

Yes! Twenty percent of full-time students at Wilkes participate in at least one of our 23 NCAA Division III men's and women's sports. Wilkes is a member of the Eastern Collegiate Athletic Conference (ECAC) and the Middle Atlantic Conference (MAC). Visit our GoWilkesU athletics website for more info.

Does Wilkes have clubs and organizations?

Yes! Wilkes currently has over 80 clubs and organizations on campus. These clubs fall into categories that include academics, the arts, communications, club sports & fitness, the student community and student leadership. For a comprehensive list of clubs on campus, visit wilkes.edu/campus-life/clubs-organizations.

Does Wilkes have an Honors Program?

Yes! Selected students take part in honors classes and extracurricular activities designed to increase intellectual, professional and personal achievement. These students benefit from merit grants that help cover tuition, preferential housing and course selection, field trips, and additional support for external scholarships, graduate school placement, and career placement.

Can freshmen have cars on campus?

Yes! Public Safety issues parking permits for a fee each semester.

What sets Wilkes apart?

RESEARCH: Wilkes generates useful, profound applied research to help our region and the world – hands-on research our students can be involved in from day one. Students join faculty in exploring topics like neonatal mortality, human rights, breast cancer detection, naloxone training, and revegetation of natural gas pipeline rights of way. Wilkes celebrates this work during the annual scholarship symposium.
MENTORSHIP: Our award-winning E-mentoring program makes sure that all new students have the support they need to navigate the transition to college life. E-mentors are current students who help first-years settle in to life at Wilkes. Assigned to students with common interests, e-mentors connect with new students the summer before freshman year and continue as their mentees' orientation leader and peer advisor throughout the first semester
WilkesEDGE™: The Wilkes Educational Gateway to Excellence (WilkesEDGE™) is an optional program offered to select first-year students to help support their transition from high school to college. Fewer courses during the first semester and increased advising and support services create a pathway to a bachelor's degree.