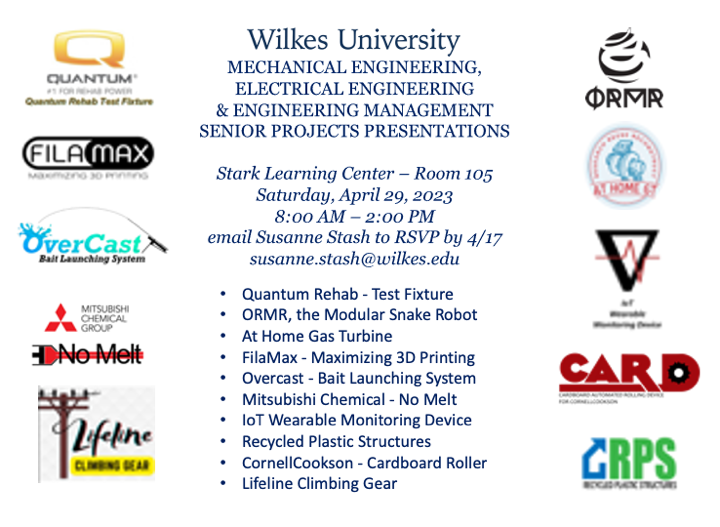 Capstone Projects
Every graduating senior is required to complete ME/EGM 391 and 392, Senior Projects I and II.
This is a capstone course designed to synthesize all skills and knowledge students have learned as Wilkes mechanical engineering students and to demonstrate their capabilities to a general audience. Students work as members of a team to design and develop selected projects in the field of mechanical engineering under the direction of a faculty mentor.
The project team parallels that found in industry. Students accept roles according to their skills and specialties and contribute to make the team and project successful as a whole. Students are involved with their projects from concept to completion. Teams manage all aspects of the project, such as formulating the idea, transferring the design to paper, accounting for design constraints, adhering to standards and specifications, selecting materials, procuring products, considering economic factors, building the prototype, and presenting their results. Some projects have been so innovative and marketable that students have turned their ideas into successful businesses.
Fall 2022 Schedule
8 - 9 a.m.
Breakfast
9 - 9:10 a.m.
Introduction
9:10 - 9:25 a.m.
Quantum Rehab - Test Fixture
Update and re-design the current quality control test fixture to increase production and decrease possible errors for Quantum Rehab.
9:30 - 9:45 a.m.
ORMR, the Modular Snake Robot
Modular snake robot designed for the applications in the research field as well as the search and rescue field.
9:50 - 10:05 a.m.
At Home Gas Turbine
A multi-application at home gas turbine built from recycled turbochargers, offering a cheap power source with a unique twist.
10:10 - 10:20 a.m.
Quick Break
10:20 - 10:35 a.m.
FilaMax - Maximizing 3D Printing
Vertical designed 3D filament recycler that will be able to accommodate both scrap 3D parts and bulk ABS or PLA pellets.
10:40 - 10:55 a.m.
Overcast - Bait Launching System
Electro-mechanical device designed to accurately launch a bait projectile to a user-specified distance.
11 - 11:15 a.m.
Mitsubishi Chemical - No Melt
Detect defects (mainly no-melt) at the Mitsubishi Chemical Group using non-destructive testing.
11:20 a.m. - 12:20 p.m.
Lunch
12:20 - 12:35 p.m.
IoT Wearable Monitoring Device
A wristband-mounted monitoring device that will determine if the wearer has undergone a life-threatening event.
12:40 - 12:55 p.m.
Recycled Plastic Structures
Building blocks for a fast and easily deployed structure made from recycled plastics.
1 - 1:15 p.m.
CornellCookson - Cardboard Roller
C.A.R.D.Board is an automated cardboard rolling machine to be used for packaging industrial garage doors for CornellCookson.
1:20 - 1:30 p.m.
Quick Break
1:30 - 1:45 p.m.
Activankle
Lower limb prosthetic that is fitted with an active ankle joint.
1:50 - 2:05 p.m.
Hindsight
Attachable blindspot monitoring system for use during outdoor activities that increases the awareness of users.
2:10 - 2:20 p.m.
Conclusion