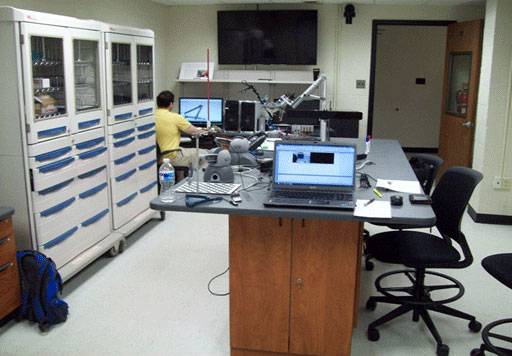 This state-of-the-art lab opened in spring 2012, offering engineering students the latest instructional and hands-on experience in robot- assisted, minimally invasive surgical procedures. Cutting-edge technology allowed students to remotely control intelligent robots within the abdominal cavity.
These miniature devices performed dexterous manipulations while enhancing views from arbitrary angles unavailable through traditional surgical methods. Faculty members collaborated with Geisinger Medical Center surgeons to teach students techniques in shortening incision lengths to reduce infection risks, vital for saving lives.
Key Features
Wilkes was the only University in northeastern Pennsylvania to collaborate with Geisinger Medical Center, Danville, PA, in conducting the testing of robotic surgical procedures and applications. State-of-the art instructional offered video and teleconferencing with Geisinger.
Mediascape technology, featuring Leapfrog and Stylist applications, frees students from work stations. Other features include a smart white board, a fully-equipped mobile station with laptops, and a surgical simulator station.