Visit the Campus Store
A revamped and expanded space in the hub of student activity makes it a convenient and memorable location to serve our students, faculty and staff, offering proximity to classrooms and dining options, as well as providing a place to meet. The academic superstore is designed to meet the specific needs of students at Wilkes, with comprehensive physical and virtual textbook services, spirit wear, lounge areas, and standard Barnes & Noble bookstore stock.
New & Improved
The Colonel Corner, Wilkes University's campus store, is located just inside the South Street entrance of the Henry Student Center.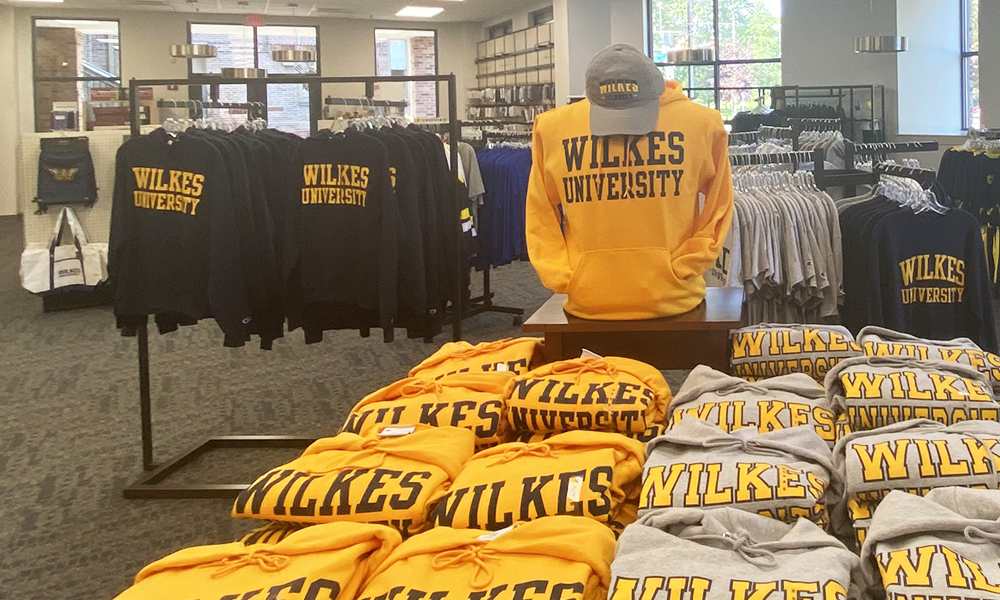 We've taken our course materials virtual!
It is now easier than ever to get the materials you need for class. From ordering books to selling them back, we've got you covered. The online bookstore will give you money-saving options, price-match, fast delivery and friendly, reliable customer service via phone and email.
How It Works
Visit the Wilkes Barnes & Noble website and choose "textbooks." Enter your course information in the dropdown boxes. View your course materials and decide if you prefer new, used, rental or digital versions of your course materials.
Decide if you would like the books shipped to your address or shipped to the store for on-campus pickup.
Confirm your purchase, create or login to your account and proceed to payment. Accepted tenders include credit card, Barnes & Noble gift cards or your Wilkes student ID, if you have a book voucher.
Sit back and enjoy being on campus again! If you choose to have your book order shipped to your home, tracking details will be provided when orders ship. If you choose to have your book order shipped to the Colonel Corner, you will receive an email when your books are ready to be picked up. Most orders will arrive in 2-4 days.
General Information
Standard Hours
Monday to Thursday: 9 a.m. to 6 p.m.
Friday: 9 a.m. to 5 p.m.
Saturday: 10 a.m. to 3 p.m.
Sunday: Closed
Summer Hours
Monday to Friday: 9 a.m. to 5 p.m.
Saturday: 10 a.m. to 2 p.m.
Sunday: Closed
Location
Henry Student Center
84 West South St.
Wilkes-Barre, PA 18766