Become Part of the Wilkes Community
Looking to take the next step after community college? Or perhaps you've decided that your first college choice is not the right fit to help you achieve your goals. Wilkes University welcomes applications from students seeking to transfer from another institution.
We offer the resources of a large research university in the atmosphere of a small, liberal arts college. Here you can get to know professors one on one, immerse yourself in hands-on learning opportunities and internships, and dive into one or more of our 100-plus clubs and organizations.
Our transfer counselors are ready to help you get started. They'll review your transcripts and evaluate course credits. You can also use the online tool toward the bottom of this page to see some courses that transfer from specific institutions.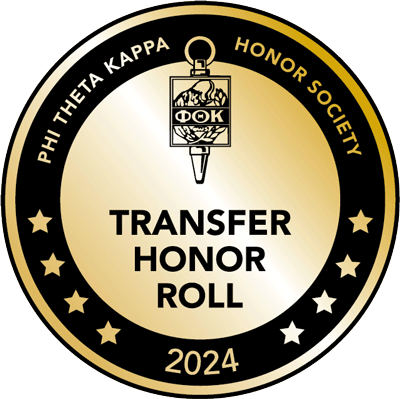 Transfer Scholarships
Please note: In order to remain eligible for the transfer scholarship, students must be enrolled as full-time, degree-seeking domestic student.
$11,000 to $18,000
MERIT SCHOLARSHIPS (2024-2025 ACADEMIC YEAR)
Awarded based on academic performance and renewable each year
$2,000
OUT OF STATE AWARD
Awarded to students who reside outside of Pennsylvania (applies to U.S. citizens and permanent residents only)
$10,000
BLUE & GOLD OPPORTUNITY GRANT
Awarded to students who show potential and are not awarded one of the above scholarships
$2,000
PHI THETA KAPPA SCHOLARSHIP
Awarded to transfer students who are members of Phi Theta Kappa Honor Society, in addition to the transfer scholarship listed above; proof of PTK membership must be submitted with admission applicatio
Her Perfect Fit
Education major Olivia Caraballo said she knew Wilkes was home the very first weekend she spent on campus. She was welcomed with open arms and now is so proud to "Be Colonel!"
Transfer Your Credits
Wilkes will review transfer credits from college/university courses in which a student has earned a C (2.0) or higher. Please review our transfer tool with available course equivalencies and core requirement equivalencies for a few listed colleges/universities. Please note some institutions and courses may not be listed, but courses may still transfer. Please contact your admissions counselor for other courses.
Core Requirements
Wilkes University's core requirements are taken by all university students regardless of the chosen major. Transfer students may receive credit for courses due to course work completed prior to attending Wilkes.
University Policy Regarding all Transfer Students
Transfer Students from two-year institutions must complete a minimum of sixty (60) credits at a baccalaureate degree-granting institutions.
All transfer students must complete a minimum of thirty (30) credits (exclusive of advanced placement credit award by Wilkes) and one-half (50 percent) of their major field credits at Wilkes University.
To be eligible for honors at graduation, you must obtain sixty (60) credits at Wilkes University.
The transfer process through admissions was very welcoming and helpful, whether it would be a last-minute tour of campus or weekly phone calls with your admissions counselor.

Mark Chester
How to Apply
Wilkes accepts applications on a rolling basis. That means you will know your admission decision within a few weeks of completing your application.
To complete your transfer application, you must submit:
Official College Transcript(s) from all institutions attended
Additional Requirements
If you are a Nursing applicant, please review the additional application requirements.
If you are a Musical Theatre and Theatre Arts applicant, auditions are required.
If you are not interested in seeking a degree from Wilkes and are either looking to take any course(s) for a given semester or will transfer credits back to your home institution, please complete our visiting registration application.