Taking hands-on laboratory experiences to middle and high schools throughout northeastern Pennsylvania.
Science in Motion provides middle and high school students with access to advanced science experiments, equipment, and instruction for enhanced STEM learning – all at no cost to the school. Mobile educators visit schools with all supplies needed for a variety of science experiments. Science in Motion also offers professional development for teachers through workshops and interaction with other secondary teachers and university faculty.
Background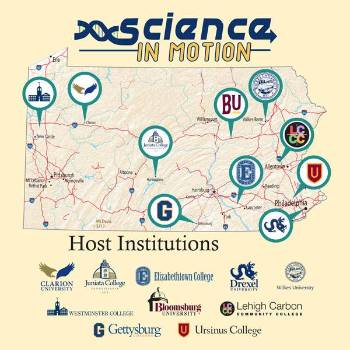 Founded in 1987 at Juniata College, 10 colleges and universities currently serve more than 200 school districts in Pennsylvania. Wilkes University joined the consortium in 2002 to serve northeastern Pennsylvania. This statewide resource-sharing program is funded by the Pennsylvania legislature and the Pennsylvania Department of Education.
Wilkes University Science in Motion serves middle and high schools within a 60 mile radius of the Wilkes University campus. During the 2021-2022 school year, 34 school districts utilized SIM resources.
Blue Mountain
Blue Ridge
Central Columbia
Crestwood
Dallas
Danville Area
Diocese of Scranton
Dunmore
Forest City Regional
Hamburg Area
Hanover Area
Hazleton
Hazleton Area Academy of Sciences
Lake-Lehman
Lakeland
Mid Valley
Northwest Area
Old Forge
PA Cyber Charter Schools
Panther Valley
Pittston Area
Pocono Mountain
Riverside
Towanda Area
Tri-Valley
Tunkhannock Area
Wallenpaupack Area
Wayne Highlands
Weatherly Area
Western Wayne
Wilkes-Barre Area
Wyoming Area
Wyoming Seminary
Wyoming Valley West
Bloomsburg University
Clarion University
Drexel University
Elizabethtown College
Gettysburg College
Juniata College
Lehigh Carbon Community College
Ursinus College
Westminster College
Wilkes University
Berks
Bradford
Carbon
Lackawanna
Luzerne
Monroe
Northampton
Pike
Schuylkill
Susquehanna
Wayne
Wyoming
Labs & Equipment Offered
Science in Motion offers a variety of labs, equipment, models and more to help engage students. Get more information on what SIM offers, or submit a visit request via our online form.
Chemistry
Your students will become detectives as they use forensic evidence to solve a mystery. They'll take science poolside as they analyze the SPF of sunscreen. These are just two of the ways Science in Motion brings real-world chemistry applications into your classroom. Check out the full list of available chemistry labs to see what else students can do.
Biology
Introduce your students to the world of Microscopy as they explore different types of microscopes. Allow your class to test the 5-Second Rule or extract DNA from a strawberry. These are just a few of the ways Science in Motion brings high-quality biology applications into your classroom. Check out the full list of available biology labs to see all we have to offer.
Physics
Using the Vernier software, student will learn topics such as air resistance, impulse and momentum and Newtons law.
Middle School
Find labs in biology, chemistry and physics tailored for middle school students.
Equipment
Science in Motion labs often use equipment not typically found in middle and high school science departments. We can bring the equipment to you at no cost to your district.