The Office of Diversity Initiatives develops and facilitates programming to educate our students for lifelong learning and success in a constantly evolving and multicultural world.
Upcoming Events TBA
Previous Conference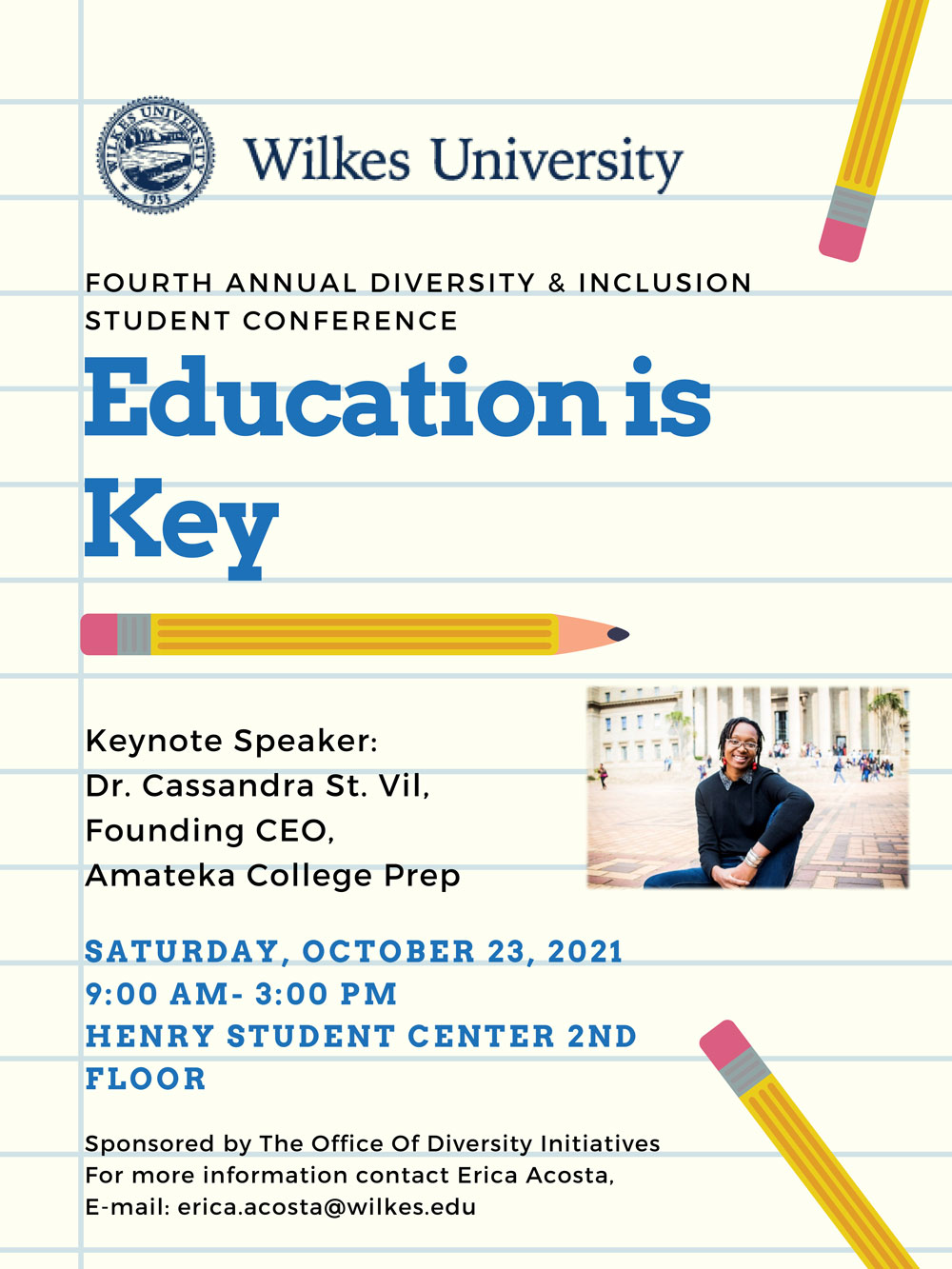 4th Annual Diversity & Inclusion Student Conference
Oct. 2021
Keynote Speaker
Dr. Cassandra St. Vil, Founding CEO, Amateka College Prep
Session Block 1
Session A | Unpacking the N-Word
Presented by: Jasmine L. Giddings, Director of Multicultural and International Student Program, King's College
Where did the word come from, who should and who shouldn't say it and what effect does the word have on you? Our goal is to have a civil discussion with one another and for each person to individually make a decision on whether they will or will not say it. This is an interactive presentation.
Session B | Hey Let's Talk About This: The Black Male Experience
Presented by: Woodly M. Augustin, High School Counselor at Hanover Area Junior/Senior High School
"Throughout my life, I've experienced the good, the bad and the ugly. Pull up a chair and let's talk about it. We're going to unpack key events that took place in my life as a black make student-athlete." -Woodly M. Augustin
Session Block 2
Session A | Our Bias is Showing: Language & Privilege in Educational Environments
Presented by: Mia E. Briceño, Ph.D. Associate Professor, Communication, Wilkes University
Language not only reflects the world in which we live, it also shapes it. In this session, we will critically examine communication situations and language use in educational spaces, consider the role of privilege in those communication transactions and reflect on the impacts that biased communication/language can have in the areas of diversity, equity and inclusion.
Session B | Systemic Racism
Presented by: Dan Kimbrough, CEO of ParkMultimedia
We will examine the roots of American racism and show how it led to a system of white supremacy that still haunts the country to this day.
Session Block 3
Session A | Flexing our Civic Imagination Through LEGO Serious Play
Presented by: Megan Boone Valkenburg, Civic Engagement Office & Certified Facilitator of LEGO Serious Play, Wilkes University
The LEGO serious play method is a facilitated thinking, communication and problem-solving technique that draws out collaborative innovation through kinesthetic learning. Participants will work through the pressing social justice issue of educational access and equity by building their vision for equitable education.
Session B | Implicit Bias: Truths, Myths & Consequences
Presented by: Ellen E. Newell, PhD, Associate Professor of Psychology, Wilkes University
Implicit bias is truly important to understand as it can impact our thoughts, feelings, and behaviors in significant ways. The problem, however, is that many resources use this phrase without having a clear understanding of how implicit bias works - or even what the differences are between explicit and implicit biases. Together we will explore how these biases function, how they do not function, how misunderstanding implicit bias could cause serious harm, and how having a solid understanding of both explicit and implicit bias is one essential element for creating safe, welcoming spaces where diverse people can thrive.
Cassandra St. Vil, Ph.D. is a visionary education leader based in Washington, D.C. and Maryland. She is a trained Africanist, social worker and former special education teacher; she has remained in the classroom as a high school history teacher and professor of social sciences. "Dr. Cass" has worked with adolescents and young adults, internationally, since 2002. She has brought her work in multicultural education and youth development to over 30 countries and is a past Fulbright Scholar to South Africa, returned Peace Corps volunteer in Rwanda and Teach for America (New York) alumna. Dr. Cass is a graduate of Howard University's Ph.D. program in African Studies (2009), the Harvard Graduate School of Education (2018), Hunter College's graduate program in special education (2014) and the University of Michigan School of Social Work (2006). The first of her five degrees was completed at Buffalo State College in 2005. She is the founding CEO of Amateka College Prep, an organization dedicated to celebrating Black cultures and heritage among multiracial, multicultural middle and high school students. She first wrote about this work in her book, The Push for African-Centered Education, independently published in 2017. During the COVID-19 pandemic and rampant racial injustice around the country, Dr. Cass would teach her students to learn from Black narratives throughout history. Her own high school students wrote essays about the importance of Black role models and were published by the organization she founded, Amateka College Prep. Their book, The Black Excellence Project at Bard Early College D.C. was published in 2020 and intentionally released on Juneteenth to celebrate Black freedom, history and heritage.
Past Conferences
Understanding & Addressing Social Inequalities
Keynote Speaker
Blake Lamberti Mackesy, Ed.D., School of Education at Wilkes University Doctoral Department
Challenging our Unconscious Biases
Keynote Speaker
Vicki T. Sapp, Ph.D., Student Affairs Director for Student Engagement, Diversity, and Inclusion Assistant Professor, Department of Clinical Sciences at Geisinger Commonwealth School of Medicine
Connecting with Social Responsibility & Inclusion in Changing Times
Keynote Speaker
SRA. Joyce M. Avila, President of Cafe, Creating and Facilitating Equality