WEBS Summer Camp 2023
Wilkes University is pleased to offer an exciting and innovative science summer camp for young women - WEBS.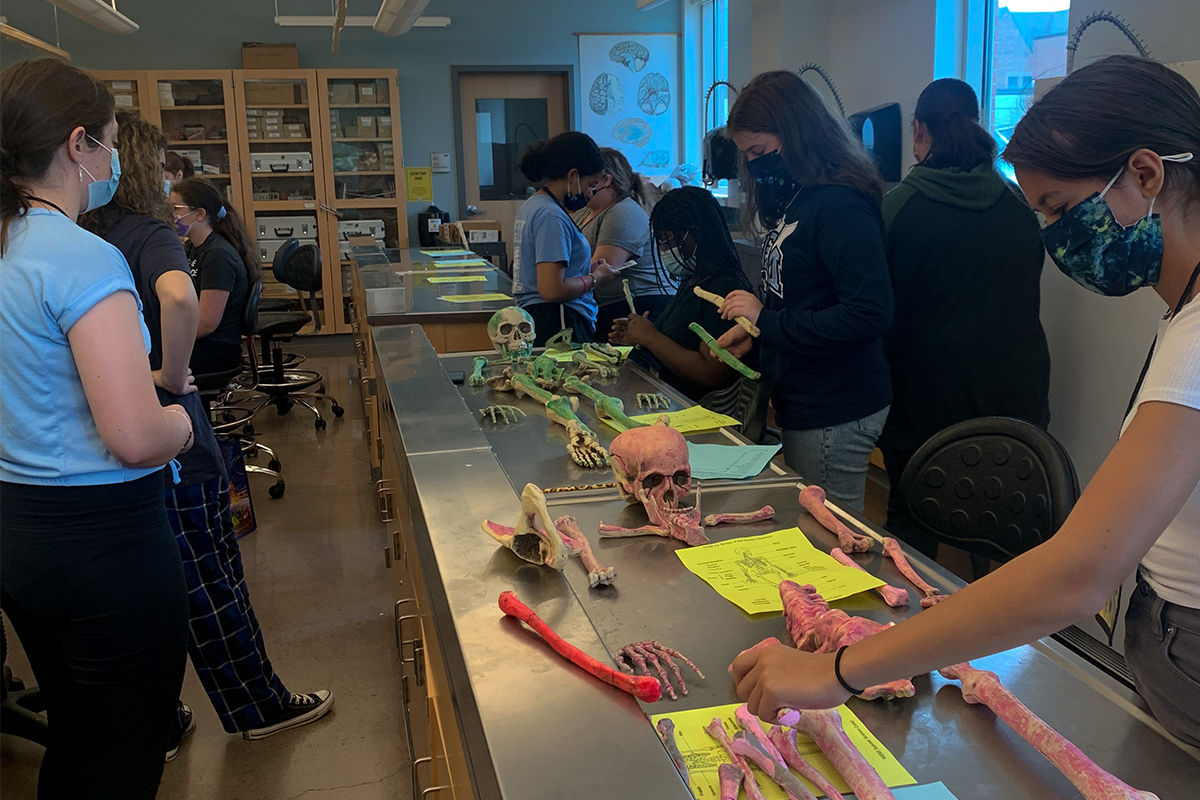 About WEBS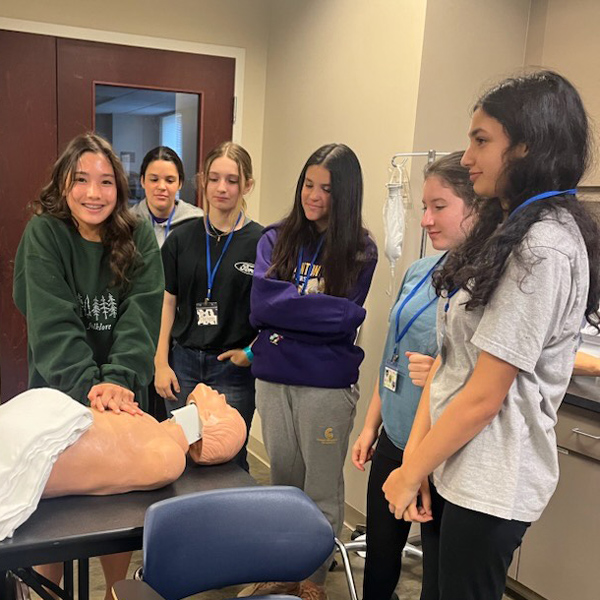 The WEBS Summer Camp will give campers the opportunity to investigate many areas of science through hands-on laboratories and activities. WEBS camp participants will address scientific questions, acquire essential laboratory skills and develop important critical-thinking skills by working directly with Wilkes University faculty, staff and students on a variety of scientific projects.
Each day, the WEBS campers will have hands-on experiences in two, three or four different laboratories, including labs in biology, chemistry, environmental engineering, pharmacy, physics and robotics. This is an exciting way for young women to "sample" the many different areas of science through investigative experiences and projects. Representatives from local wildlife agencies and other scientific organizations will present live programs during the week. In addition, WEBS participants will become familiar with life on a college campus and have the opportunity to talk with and learn from Wilkes faculty, staff and students as well as professional women from the local area engaged in careers associated with various fields of science.
This program is designed for young women who have a sincere interest in the sciences, have potential for a career in the sciences, and wish to develop the skills and knowledge necessary to reach their full potential in this field.
2022 labs included:
Brains and Cakes - Well, that title looks gross, but, actually, this lab is fun! And delicious! After a brief introduction to the four lobes of the cerebrum of the brain, campers will use colored icing to "ice the parts of the brain" and then determine what each part of the brain controls. Then you can eat your brain, so be sure to use lots of icing!
Bone Hunt - A scavenger hunt for bones? Really? WEBS campers will learn how the human skeleton is organized, search the Wilkes campus for "human bones," and assemble their own skeleton.
Coastal Impacts of Sea Level Rise - Campers will build several different coastal shoreline environments and then observe the impact of simulated sea level rise. Campers will reflect on how sea level rise impacts different types of coastal environments.
Converging and Diverging with Shoes - Campers will need a variety of shoes for this lab! After a brief introduction to key concepts in evolution including convergent and divergent evolution, campers will answer these questions: Why do different organisms look the same? Why do related organisms looks so different? These questions and more will be answered as campers look through the wacky ways of evolution with the help of everyone's favorite accessories: shoes!
CSI (Crime Scene Investigation) - Using the power of observation and technology in order to solve crimes is the goal of Forensic Sciences. In this CSI laboratory, campers will collect and analyze evidence (hair, clothing fibers, fingerprinting, etc.) to solve a crime and find the culprit.
Frog Dissection (Optional) - Did you ever wonder what the inside of your body looks like? By dissecting a frog, you can learn a lot about your own anatomy. For those of you who really don't like this idea for a lab, we will have an alternative activity for you.
Genetics - Genetics is, in basic terms, the study of inheritance - how we pass traits from one generation to the next and what kinds of things affect what traits we see in different individuals. In this lab, campers will use simulations, live animals (fruit flies), and other activities to investigate and learn more about how genes make us (and other organisms) who and what we are.
Nutrition - Have you ever wondered why every food container lists the chemicals present? Have you ever wondered how that list was made? Humans are made of many chemicals including carbohydrates, fats, proteins and nucleic acids. In order to grow and live, we need more of these chemicals, so we get these chemicals from the food we eat. We will use the fact that each of these chemicals has different properties to determine which of these chemicals is present in some common foods.
Oil Spill - Campers will participate in a review of recent oil spills and work through experimental methods to evaluate how the spill will travel. Camper groups will use various techniques to effectively remediate oil spills and discuss practical solutions to large spills.
Pop Pop, Fizz Fizz: Drug Dissolution - Medications are available in many formulations. Campers will work in pairs to evaluate three different medication formulations to investigate which formulation is dissolved in the body the fastest. It is important for pharmacists to know how fast medications will work so they can educate their patients appropriately. This activity will also discuss medication safety and options for safe medication disposal.
Robots - Campers will program autonomous robots to complete basic missions in the lab. The programming techniques needed to accomplish the basic missions will be used in the robot game, "City Sights," from the First Lego League competition series. The robot games model a variety of challenges faced by urban planners. They include material delivery, infrastructure repair and toxic waste cleanup. Campers will demonstrate their best mission on Saturday.
You Be the Doctor! - Campers will work in small groups on a case study involving the diagnosis of a medical condition based on symptoms. After researching the symptoms, gathering important and pertinent medical information and making a concluding diagnosis, students will present their project to other camp participants.
The WEBS 2.0/3.0 program was created at the request of campers who aged out of our WEBS 1.0 programs but who still wanted to participate in the WEBS experience.
Although many WEBS 2.0/3.0 campers have attended WEBS 1.0, no prior WEBS experience is neccessary to attend the 2.0/3.0 camp.
The goal of WEBS 2.0/3.0 is to expose young women to areas of science and the arts they likely have not experienced. The 2.0/3.0 program encourages a love of learning, broadens horizons, introduces new areas of interest and increases critical thinking skills in an environment that fosters independence and challenges one's self through age-appropriate learning and team building activities.
As a WEBS 2.0/3.0 participant, you will spend much of your time in state-of-the-art science and engineering labs working with world-class professors and scientists. Throughout the week there will be opportunities to attend off-site field trips and to serve as mentors to younger WEBS campers.
2022 labs included:
Bird Catching - Campers will learn to safely handle birds and take basic measurements. They will also learn how birds influence forests and human health. Please note: This lab will take place in the woods, so appropriate dress including sturdy shoes and bug spray is mandatory. Long pants and long sleeves are highly recommended.
Chromatography - Campers will experience the "art" of chromatography in the first part of this lab by reproducing multicolor art patterns using paper chromatography. Next, they will use thin layer chromatography to determine the "culprit" in a "mini" forensic lab.
Chemistry: Real "Magic:" The Chemistry Behind "Superpowers" - Superheroes are known for their ability to save the world from many evils. They make the impossible seem possible, but how do we fit into their world? By experimenting with chemistry, we can be superheroes every day!
Clean Water - How important it is to have clean water available to us! Campers will be involved in a series of experiments designed to test the quality of water.
Coastal Impacts of Sea Level Rise - Campers will build several different coastal shoreline environments and then observe the impacts of simulated sea level rise. Campers will reflect on how sea level rise impacts different types of coastal environments.
DNA Extraction and Analysis - All living organisms store their genetic information in DNA. Therefore, you can learn a lot about an organism by reading its DNA, and you can use DNA to tell one individual from another because every organism's DNA is a little different. That is how the police use DNA to track down criminals. In this laboratory, we are going to extract and analyze some DNA from bacteria that normally live in your large intestine! You will also run some samples of DNA on a gel so you can see how we analyze it.
Fetal Pig Dissection (Optional) - Campers will have the opportunity to view the internal anatomy of the fetal pig, which is quite similar to that of humans, during this laboratory. Other preserved specimens will be examined as well. Campers who are not comfortable doing this lab may opt for another activity scheduled for this time.
Hands Only CPR - Campers will learn Hands Only CPR skills to the beat of music. Hands-Only CPR is CPR without mouth-to-mouth breaths. This will be a fun, interactive, learning experience. WEBS campers will also tour the nursing labs and participate in demonstrations associated with medical care.
It's the Balm - Campers will have hands-on experience compounding lip balm in this lab. This activity provides campers an opportunity to use the equipment of the Pharmacy Laboratory at Wilkes University to melt down beeswax and add aromatherapy scents of their choice to create the perfect new lip balm. This activity is loved by students of all ages as it teaches them foundational elements of compounding as they work with pharmacists at Wilkes University.
Pharmacists: The PILL-AR of Your Community - This lab will help campers think like a pharmacist, who are the "PILL-ARS" of our community! During this lab, campers will compete in the pharmacist verification station, guess whether an item is medicine or candy, learn how to take a blood pressure and use an epi-pen. Before the campers leave, they will stop to take a WEBS Pharmacy fun picture in the Pharmacy Care Lab.
Physics of Dance - How does physics affect how fast or slow a dancer spins? What does gravity have to do with how she balances? Why are her jumps so high? Learn about all this and choreograph your own dance in this lab!
Preserving Pretty Plants - This lab is divided into two sessions. During the first session, campers will take a short nature hike to the Riverfront Park, on the left side of the Susquehanna River in Wilkes-Barre. There, they will learn how to press wildflowers, grasses, and leaves of shrubs and trees in professional-level presses. Weather permitting, campers will also identify the plants using field guides. Later in the week, campers will remove dried plants from their presses and glue them onto herbarium paper, thus creating beautiful permanent specimens.
Relics of the Past - Campers will learn about Evolutionary Anachronisms: traits/adaptations that a species acquired in response to an environment that no longer exists. After several examples of evolutionary anachronisms are discussed, campers will have the opportunity to look at several organisms and their anachronisms. Campers will try to deduce what the purpose of the adaptations were in the past.
Stream in a Bucket - In this fun lab, campers will study live organisms (macroinvertebrates from Harvey's Lake) using stereoscopes to try to qualitatively determine the water quality of the lake water based on the quantity and types of indicator organisms counted and observed. WEBS participants will also learn a useful life skill: how to identify some common freshwater lake or stream organisms living under rocks while they are swimming or wading in the bodies of water of Northeastern Pennsylvania.
Past WEBS Camps
Registration
Space is limited. Acceptance is based on a first-come, first-served basis.
Tuition for WEBS 1.0 (7th and 8th-grade campers) is $250 for the full six-day camp.
Tuition for WEBS 2.0 and 3.0 (9th-grade through 12th-grade campers) is $250 for the full six-day camp.
Scholarships
Scholarships based on financial need are available. Please contact us for more information about scholarships.
If you have any questions about registering or are interested in applying for a scholarship, please contact:
Ms. Debra Chapman
WEBS Program Director
1-800-WILKESU (1-800-945-5378)
Tuition Includes...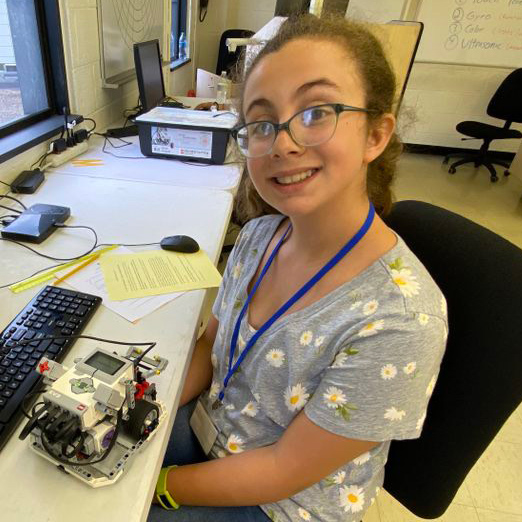 Lots of FUN hands-on labs.
Programs with representatives from local wildlife agencies and other scientific organizations.
T-shirt.
Drawstring bag.
Lab safety equipment and supplies.
Two daily snacks.
Closing day celebration.
Educational activities and take home items.
Payment Information
Make checks payable to "Wilkes University WEBS Program."
Please register as early as possible.
Mail checks to:
Ms. Genny Singer
Wilkes University WEBS
84 West South Street
Wilkes Barre, PA 18766