Review of Inauguration Week
Light the Way Forward : A Celebrating of Innovation at Wilkes
Friday & Saturday, Sept. 24-25 at dark | Weckesser Hall
Guests witnessed the transformation of Weckesser Hall by artist Jeff Dobrow and explored Aborigional creatives on a massive scale! This video-mapped projection project celebrated the inauguration of Wilkes University's 7th President, Dr. Greg Cant. "Light the Way Forward" featured artwork and music created by more than a dozen Aboriginal artists and was compiled into projection video by Jeff Dobrow.
This project was presented in partnership with the Kluge-Ruhe Aboriginal Art Collection of the University of Virginia. To learn more, visit kluge-ruhe.org external website.
Sunday, Sept. 26 | 6:30 p.m. | Fenner Quadrangle
In recognition of National Suicide Prevention Month, Wilkes students, faculty and staff were invited to a candlelight vigil. Participants gathered at the steps of the Farley Library for remarks from President Cant and Jim Tkach, founder of the Bo Tkach Foundation and father of Wilkes alumnus and football player Travis "Bo" Tkach '07.
Homecoming
Homecoming Weekend was celebrated from Oct. 1 to 3, coinciding with the inauguration. Wilkes alumni, friends and guests were welcomed back for this extra-special reunion!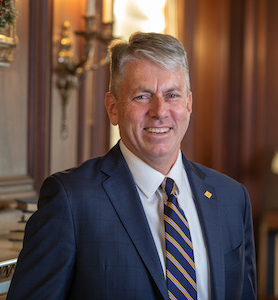 About Greg Cant, PhD
Cant is regarded as a visionary academic leader who grew enrollment at previous institutions by developing a variety of innovative and market-driven programs.
A native of Australia, Cant has 30 years of experience as an educator and administrator in the United States and abroad. He has served as the dean of the Feliciano School of Business at Montclair State University since July 2015. As dean, Cant provides strategic leadership for a business school of more than 3,700 students and 300 faculty and staff members. Under his leadership, the school developed and implemented over two dozen programs that enhanced enrollment and academic quality, leveraged interdisciplinary expertise and addressed critical market needs. During his tenure, the Feliciano School of Business experienced overall enrollment growth of nearly 50 percent, including a graduate population that grew by 115 percent.
Prior to his role at Montclair State University, Cant was the dean of the Offutt School of Business at Concordia College in Minnesota. Cant worked with key constituents to transform Concordia's business program into a comprehensive business school. Under his stewardship, the Offutt School established an intensive new curriculum, grew its faculty and staff, developed new initiatives and programs and raised more than $56 million.
Cant has held positions as a faculty member, administrator, faculty leader, department chair and academic dean at three research-intensive universities, a regional state university and a selective private liberal arts college. He also served as a professor in Guangdong, China. He has worked in the United Kingdom, as well as in his native Australia.
He holds his doctor of philosophy degree from the University of Western Australia and a master's degree in industrial relations from Queen's University in Ontario, Canada. He also earned his bachelor's degree in industrial relations and economics from the University of Western Australia. Cant's research interests include cross-cultural management, particularly in China, business ethics and business pedagogy.
History and Tradition of Wilkes Presidents
Revisit Wilkes history by viewing previous inauguration ceremonies.
Inauguration Planning
The Inauguration Steering Committee was responsible for the planning and execution of all events and activities related to the installation of Greg Cant as the seventh president of Wilkes University. The committee monitored and reviewed tasks and timelines to assure the events and activities were designed to meet the goals for inauguration.