Celebrate your Family of Colonels!
Saturday, Sept. 16, 2023
Family Day is an annual fall tradition held on the Wilkes campus, providing an opportunity for families to connect with their students while getting a first hand look into a day in the life at Wilkes!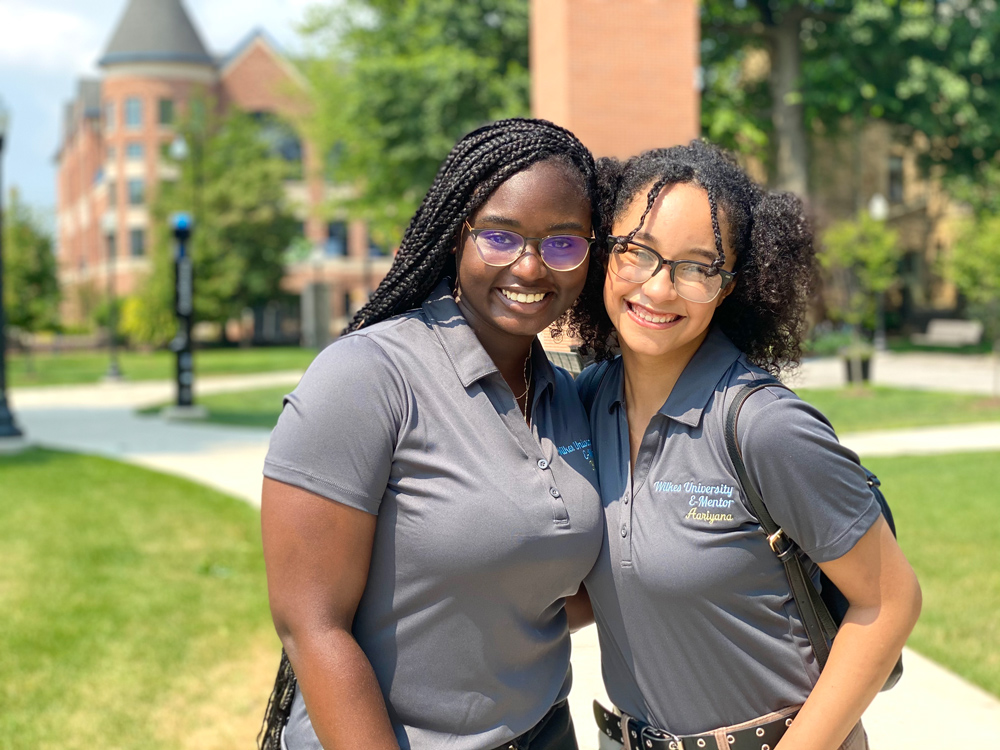 The weekend will afford you many opportunities to spend time together as a family, as well as to meet faculty, staff, administrators, friends and other Wilkes families.
Register For Family Day external website
2023 Schedule
9:30 - 11:30 a.m.
Registration and Brunch
Henry Student Center, 1st Floor
Family Day registration will be held in the Henry Student Center on the first floor to check-in for the day. Families will have the opportunity to mingle, grab light refreshments and a schedule/tickets of the day's events. Student organizations will be present to sell Wilkes gear to families! (Registration will continue at various campus locations throughout the day).
9 a.m. - 6 p.m.
Colonel Corner Campus Store Hours
Henry Student Center, 1st Floor
Visit the Colonel Corner, located on the 1st floor of the Henry Student Center for the latest in Wilkes apparel and accessories!
12 - 5 p.m.
Sordoni Art Gallery Exhibition
Sordoni Art Gallery
Visit the current exhibition, The One Rose: Celebrating the Life and Legacy of Rose O'Neill. Rose O'Neill, an American illustrator of the early 20th century, was a woman of many accomplishments. She was the first woman illustrator for Puck magazine, the leading men's magazine of the late-19th century, entertaining its readers with considerable satire and political commentary; creator of the Kewpie Doll, the subject of a major merchandising campaign, which made her fortune; activist for women's suffrage; and accomplished artist and sculptor of "Sweet Monsters" featured in exhibitions in Paris (1921) and New York (1922). The One Rose: Celebrating the Life and Legacy of Rose O'Neill exhibition celebrates the life and career of Wilkes-Barre born artist at the Sordoni Art Gallery, located just streets away from where the artist was born. The Sordoni Art Gallery is located in the Karambelas Media and Communication Center on campus.
11 a.m. - 7 p.m.
5th Annual Multicultural Parade and Festival
Public Square
The parade begins at the intersection of South Main and South Streets at 11:00AM. The festival, held at the City's Public Square, begins immediately after the Parade and continues until 7:00PM. The festival will include food vendors, live music & dance performances.
12 p.m.
Football vs. SUNY Brockport
Schmidt Stadium
Watch the Colonels take on the SUNY Brockport football team.
11:30 a.m. - Halftime
TailGate Lunch
Ralston Athletic Complex
Lunch will be served to families at Ralston Athletic Complex. While enjoying a full tailgate menu, families will be able to enjoy activities, take home Family Day photo booth photos, and receive complimentary Wilkes spirit gear to help cheer on the Colonels! Wilkes shuttles will be available to transport guests to the Ralston Athletic Complex for the football game.
Things to Do While Visiting Your Wilkes Student
Looking for things to do when you come to campus? Take a look at some of the cool activitites right around the corner from Wilkes! Northeast Pennsylvania is home to waterfall hikes external website, an Indoor Trampoline Park external website, and even axe throwing at The Hatchet Factory external website. Celebrate Fall with a visit to one of our many pumpkin patches external website.
For any questions about Family Day, please email or call us at:
You can also visit the Wilkes University Parents page for additional important upcoming dates.