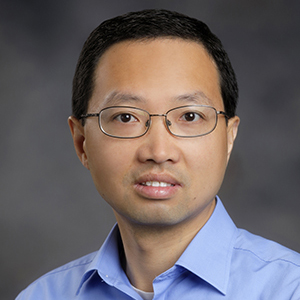 Zhu worked as a mechanical engineer leader for Computer Sciences Corporation (CSC) Advanced Marine Center in Washington, D.C., from 2007 to 2011 and Caterpillar Trimble Control Technologies in Dayton, Ohio, from 2011 to 2012. He also taught for two years at Georgia Southern University before joining the Wilkes faculty in 2014.
Ph.D., Mechanical Engineering, Vanderbilt University.
M.S., Mechanical Engineering, Northern Illinois University.
M.S. and B.S., Mechatronics, Harbin Institute of Technology, Harbin, China.
Zhu's principal areas of research interest include biomechatronics, assistive technology and design and control of bio-inspired intelligent robotic systems.
Scholarship Award, Wilkes University Teacher Recognition Effectiveness Committee, 2019.
Opening Presentation of the Wilkes University Scholarship Symposium, 2019
Naval Sea Systems Command (NAVSEA) Mobile Landing Platform (MLP) Core Capability Set (CCS) Certificate of Appreciation for the CCS Design Team, December 2011.
Department of Navy M&S Accreditation for Dynamic Positioning Multi-Vessel Simulator (DPMVS), June 2011.
CSC Navy-Marine Corps Business Area 2007 Outstanding Employee Award (Technology Category), Vehicle Transfer Team.
Yong Zhu's passion is to ignite interest and excitement in his students and help them to be successful as scholars, researchers, and engineers. The following reflects Dr. Zhu's philosophy in teaching:
"There's nothing I believe in more strongly than getting young people interested in science and engineering, for a better tomorrow, for all humankind."
– Bill Nye