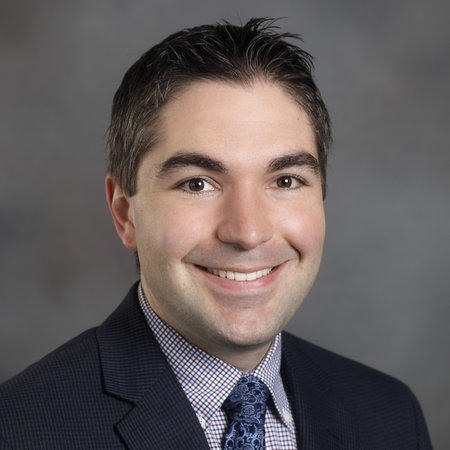 After service as a clinical pharmacist in outpatient chronic pain management, Dr. Franko joined Wilkes University in 2013. He maintains an ambulatory care practice site with the Wright Center for Graduate Medical Education in Kingston, PA. He is involved with medication therapy management for several chronic diseases, especially pain management, at the Wright Center. Along with pharmacy students, Dr. Franko trains pharmacy and medical residents from Moses Taylor Hospital and The Wright Center. He is an active member of the American Pharmacists Association, American Association of Colleges of Pharmacy and the Pennsylvania Pharmacists Association. His interests are in pain management, substance use disorder and harm reduction strategies.
Education and Training
Doctor of Pharmacy, Philadelphia College of Pharmacy, Philadelphia, PA
Pharmacy Practice Residency, Veterans Affairs Medical Center, Wilkes-Barre, PA
Certificates and Certifications
Basic Life Support
Pennsylvania Licensed Pharmacist
Pennsylvania Authorized Immunizing Pharmacist
Board Certified Ambulatory Care Pharmacist
Aspects of Caring for the Pain Patient

Pharmacotherapy of Pain, Headache and Substance Use Disorders

Substance Use Disorder Care Lab

Ambulatory Care Advanced Pharmacy Practice Experience
Franko T, Trombetta D. Impact of an innovative pain elective course of student beliefs and attitudes towards opioid medication use. Curr Pharm Teach Learn. In Press
Kibbe A, Franko T, Shah V. Oxycodone immediate-release analgesic for managing severe pain: abuse deterrent formulations. Ther Clin Risk Manag. 2018 April 30. (14): 779-782
Franko T. Development of a novel naloxone training program. American Pharmacists Association Annual Meeting. 2018 March 15-19. Nashville, TN
Franko T, Hiryak K, Bonavoglia N. Guardians of the opioid galaxy: awesome mix 1. Pennsylvania Pharmacists Association Midyear Meeting. 2018 Jan 26-28. Lancaster, PA
Franko T. Finding the balance: effective pain management vs. enabling an addiction. Geisinger's Current Concepts in Medication Safety Conference. 2018 March 28. Wilkes-Barre, PA
Franko T. 2018 Naloxone Training Update. Pennsylvania Pain and Addiction Summit. 2018 April 20. Wilkes-Barre, PA
Sklarosky J, Franko T, Connor C, Withers D, Sanguedolce S. County in crisis: the opioid epidemic panel discussion. 2017 Sept 7. Wilkes-Barre, PA
Ponce A, Franko T. Beliefs and attitudes of pharmacists toward naloxone dispensing in a community pharmacy setting. American Pharmacists Association Annual Meeting. 2018 March 15-19. Nashville, TN
Grudeski A, Franko T, O'Dea E. Combating the opioid epidemic – the power of naloxone intervention in community pharmacy. Pharmacy quality alliance annual meeting. 2018 May 16-18. Baltimore, MD.
Borger J, Gregory M, Franko T. Evaluation of opioid, muscle relaxant and benzodiazepine prescribing habits in a primary care physician's office. American Society of Health System Pharmacists Midyear Meeting. 2017 December. Orlando, FL.
Franko, T. (2015). From bobsleds to yoda: developing preceptor and mentoring skills through study of popular films (webinar). Pennsylvania Pharmacists Association. Harrisburg, PA.
Franko T. (2015) Using a Community Theatre as a Self Directed Introductory Pharmacy Practice Experience (SD IPPE) Site. American Association of Colleges of Pharmacy Annual Meeting. National Harbor, MD.
Franko T., Kane D, et al. (2015). Improving medication reconciliation through pharmacists oversight. Wilkes University Annual Research Day. Wilkes-Barre, PA.
2018 Co-Chair, Education Committee, Pain, Palliative Care and Addiction SIG, American Pharmacists Association

2014 – 2018 Northeast Director, Pennsylvania Pharmacists Association

Advisor, Rho Chi National Pharmacy Honor Society Gamma Lambda Chapter

Advisor, Generation Rx through APhA-ASP

Co-advisor, Kappa Psi Pharmaceutical Fraternity Delta Omicron Chapter