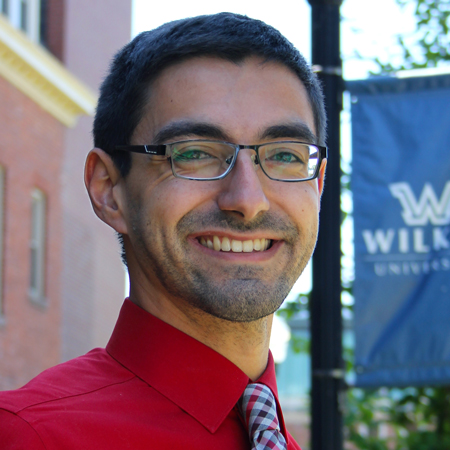 Dr. Kheloussi is a 2012 graduate of Wilkes University and comes from a background in managed care. He served as a Medication Therapy Management pharmacist for several years before becoming a Formulary Management and Specialty Pharmacist at Geisinger Health Plan. His clinical practice site is in managed care at Geisinger Health Plan in Wilkes-Barre, PA, where he now focuses his work on student education.
Managed Care Elective and Skills Lab
Pharmacotherapy of Gastrointestinal Disorders
Pharmacotherapy of Cardiovascular Disease – Lipids
Specialty Drugs and Biosimilars
Kouch J, Kheloussi SS. Assessment of appropriateness of fish oil products in a primary care setting. Poster presentation at PPA Midyear Conference. 2018 Jan
Kheloussi SS, Lee J, Navarro R. Integrating managed care principles into pharmacy curricula: a critical need in today's healthcare environment. Podium presentation at AACP Annual Meeting. 2017 July.
Kheloussi SS, Longyhore DS. Peer or instructor feedback in preparation for end-of-semester performance-based testing. Poster presentation at AACP Annual Meeting. 2017 July.
Kheloussi SS. Appropriate use and safety concerns of proton pump inhibitors. US Pharm. 2017;42(6)(Generic Drugs suppl):38-42.
Kheloussi SS. Pulmonary arterial hypertension: contemporary pharmacotherapeutic management. Power-Pak C.E. 2017 June 22.
Kheloussi SS, Bright C, Shah V, Seeley R. The implications of pharmacy school enrollment and subsequent pharmacist supply on pharmacist salaries. Poster presentation at the Wilkes University Research Symposium. 2017 Mar.
Kheloussi SS. Pharmacologic management of HIV-associated wasting syndrome. US Pharm. 2016 Dec 1;41(12):44-53.
Kheloussi SS. Optimizing use of biologic DMARDs in rheumatoid arthritis. Power-Pak C.E. 2016 June 01.
Kheloussi SS, Russell TM. Understanding star ratings and the influence of MTM services. Power-Pak C.E. 2015 July 20.
Kheloussi SS. Treatment options for the prevention of acute coronary syndromes post-myocardial infarction. Power-Pak C.E. 2014 July 20.
Kheloussi SS, Yarczower B. Anticipatory prior authorization criteria development for the forthcoming proprotein convertase subtilisin/kexin type 9 (PCSK9)-inhibitors. Webinar presented for the Alliance of Community Health Plans. 2015 June.
Kheloussi SS. Gout and hyperuricemia treatment product administration training and patient assistance/compassionate use program awareness. Webinar presented for the Specialty Pharmacy Education Center. 2013 Nov.
Selected Service
Schools of Pharmacy Relations Committee, Academy of Managed Care Pharmacy
Faculty Advisor, Wilkes University Ultimate Frisbee Club
Faculty Advisor, Wilkes University Academy of Managed Care Pharmacy Chapter
Selected Awards
NECPA IPEC Grant: Kheloussi SS, Longyhore DS. Which way do we go?: an interprofessional "Choose Your Own Adventure" experience. 2018 Northeast/Central Pennsylvania Interprofessional Education Coalition Collaborative Care Summit.
Rho Chi: The National Pharmacy Leadership Society. Honorary Inductee. Spring 2017