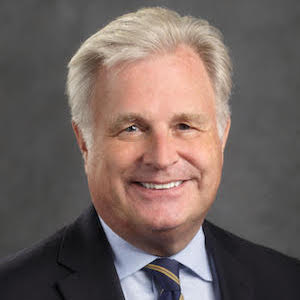 Dr. Paul S. Adams '77 has nearly 40 years of experience at Wilkes University, having
served in various roles in student and academic affairs since 1979. Most recently, Adams
served as the interim President of Wilkes from Aug. 2019 through May 2020.
As Vice President of Student Affairs, Adams oversees all aspects of student life
including athletics; health and wellness; residence life and judicial affairs.
He also oversees student development, which includes career development
and internships, student activities, campus interfaith, community service,
e-mentoring and orientation.
As Accreditation Liaison Officer for the Middle States Commission on Higher Education,
Adams co-chaired the University's 2020 Middle States Self-Study Steering Committee
through Aug. 1, 2019. He also chaired the Periodic Review Report Committee in 2015
and co-chaired the University's Decennial Self Study in 2010. He previously chaired the
University's Mentoring Committee and Strategic Planning Committee.

Adams previously served as the director of residence life, dean of academic support
services, dean of student affairs and university college, and interim vice president for
development. He has been a member of the board of directors of Luzerne County Head
Start, the United Way of Wyoming Valley, the Wilkes-Barre Family YMCA and was a
member of the executive committee for Diamond City Partnership. He is a trustee of the
James Sutton Home.
Adams received his Bachelor of Arts and Master of Science in Education from Wilkes. He
earned his Ph.D. in Organizational Leadership and Curriculum Instruction from the
University of Pennsylvania. He is also a graduate of Harvard University's Institute for the
Management of Lifelong Education. In 2011, Adams was named a Distinguished Graduate of
Binghamton City School District.
Adams has studied or served under five of Wilkes University's six presidents. He and his
wife, Jean '78, have two daughters, Caroline and Lindsay.