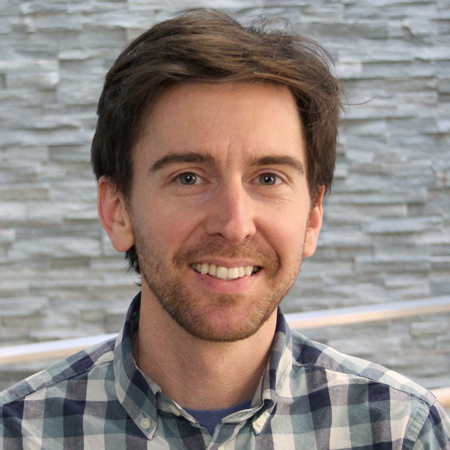 Dr. Finkenbinder is a paleoclimatologist /sedimentary geologist and Associate Professor in the Biology and Earth Systems Sciences department. His primary research interests include paleoclimatology, sedimentology, stable isotope geochemistry, and radiometric dating methods. His research focuses on reconstructing past climatic changes on a range of timescales using the sedimentary record from small lakes. His current and recent research projects include lake sediment-based projects in Alaska, northeast Pennsylvania, the Northern Rocky Mountains of Montana, and numerous locations across Canada including in Newfoundland, Ontario, Manitoba, Alberta, and British Columbia. Dr. Finkenbinder teaches a variety of introductory and upper-level undergraduate Geoscience and Environmental Sciences courses in support of the department. He is primarily responsible for teaching Introduction to Geology, Sedimentology and Stratigraphy, Geomorphology, Paleoclimatology, Historical Geology, Field Geology, and Ocean Science. The primary learning goals in his courses are to learn pertinent geological concepts, develop critical thinking and problem solving skills, develop an appreciation for Earth Science issues and their societal relevance, and hone written and oral communication skills. Geological field trips play a critical role in the educational process for his classes.
Associate Professor of Geology: Wilkes University, 2022 – present
Assistant Professor of Geology: Wilkes University, 2016-2022
Postdoctoral Researcher: University of Pittsburgh, 2015-2016
Andrew Mellon Pre-doctoral Fellow: University of Pittsburgh, 2014-2015
Teaching Fellow: University of Pittsburgh, 2010 - 2015
Project Geologist: HRP Engineering, 2008-2010
Graduate Teaching Assistant: West Virginia University, 2005-2008
PhD Geology, University of Pittsburgh, Pittsburgh, PA (2015)
MS Geology, West Virginia University, Morgantown, WV (2008)
BS Geoenvironmental Studies, Shippensburg University, Shippensburg, PA (2005)
Introduction to Geology
Historical Geology
Sedimentology and Stratigraphy
Paleoclimatology
Geomorphology
Ocean Science Climate Modeling
Geology Field Camp
Rodbell, D.T., Hatfield, R.G., Abbott, M.B., Chen, C.Y., Woods, A., Stoner, J.S., McGee, D., Tapia, P.M., Bush, M., Valero-Garcés, B.L., Lehmann, S.B., Mark, S.Z., Weidhaas, N.C., Hillman, A.L., Larsen, D.J., Delgado, G., Katz, S.A., Solada, K.E., Morey, A.E., Finkenbinder, M.S,, Valencia, B., Rozas-Davila, A., Wattrus, N., Colman, S.M., Bustamante, M.G., Kück, J., Pierdominici, S., 2022. 700,000 years of tropical Andean glaciation. Nature 607(7918), 301-306.
Finkenbinder, M.S., Steinman, B.A., Bird, B.W., Weber, E.C., Aspie, A.R., Mark, S.Z., Stansell, N.D., Fernandez, A., Halsor, S.P., 2022. A 5,000-year record of late Holocene climate change in Newfoundland using oxygen isotope analysis of lake sediments. Quaternary Science Reviews 278, 107376.
Lehmann, S.B., Steinman, B.A., Finkenbinder, M.S., Abbott, M.B., 2021 Prolonged early to middle Holocene drought in the Pacific Northwest inferred from lacustrine carbonate oxygen isotope values and sedimentology. Quaternary Science Reviews 271, 107192.
Hillman, A.L., Yao, A., Finkenbinder, M.S., Abbott, M.B., 2021. A 17,000-year multi-proxy study of the Indian Summer Monsoon from Lake Dian, Yunnan, China. Palaeogeography, Palaeoclimatology, Palaeoecology 567, 110292.
Pompeani, D.P., Bird, B.W., Wilson, J.J., Gilhooly, W.P., Hillman, A.L., Finkenbinder, M.S., Abbott, M.B., 2021. Severe Little Ice Age drought in the mid-continental United States during the Mississippian abandonment of Cahokia. Scientific Reports 11(1), 13829.
Wilkes University Admissions and Financial Aid Committee, 2021 - present
Wilkes University Teacher Education Committee, 2017 - present
Wilkes University Library Committee, 2017 - 2020
Wilkes University President's Award for Scholarship (2022)
Fonds de Recherche du Québec Postdoctoral Fellowship (2016, declined)
Arctic Climate Dynamics Course Scholarship, University of Bergen (2016)
Andrew Mellon Predoctoral Fellowship (2014 - 2015)
University of Pittsburgh Leighton Memorial Graduate Scholarship (2012 - 2013)
Geological Society of America J. Hoover Mackin Award Honorary Mention (2012)
Geological Society of America Graduate Research Grant (2007, 2012)
WVU Teaching Assistant of the Year (2006-2007)
Marshall Miller Geology Field Camp Award (2006)
American Geophysical Union
Geological Society of America
National Association of Geoscience Teachers