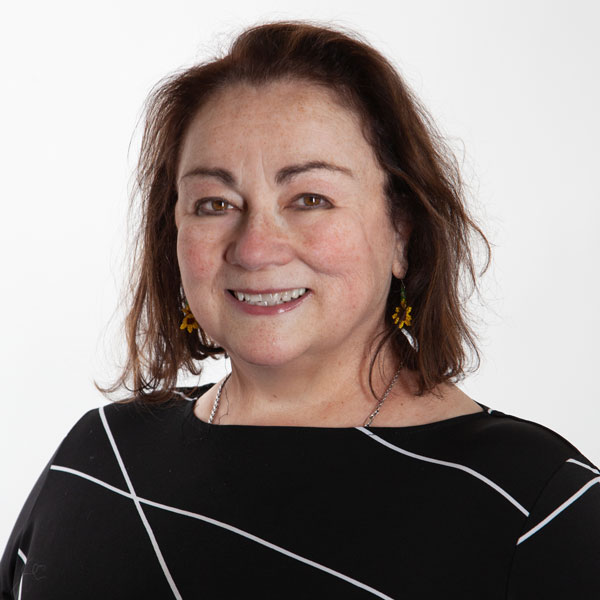 Mary F. McManus, Ph.D., R.Ph. received her doctorate in Pharmaceutical Sciences – Pharmacology/Toxicology and pharmacy degree from St. John's University in New York City. Dr. McManus has extensive experience as a researcher, clinician, and academic in a variety of areas in toxicology and public health in the New York metropolitan area. Dr. McManus joined Wilkes University as a molecular toxicologist with expertise in neurotoxic agents. In response to the needs of the underserved individuals of the region, Dr. McManus's research interests transitioned into the area of public health, patient advocacy, and poverty medicine focusing on delivery of improved medical care to underserved and vulnerable individuals. To this end, she has developed, directed and collaborated in initiatives which improve health care for underserved individuals at local, state and national levels. This includes focused application of pedagogical principles in the evolving discipline of poverty medicine with the goal to improve the interprofessional scholarship of practitioners in this area. She currently teaches anatomy and physiology, social and behavioral determinants of health, environmental health, public health capstone, a public health advanced pharmacy practice experience in public health. Dr. McManus has completed a Medical Education Research Certification to enhance community based participatory research initiatives in underserved populations. She is involved in preventative public health programs which will decrease the disease burden within vulnerable populations. In addition to Dr. McManus's teaching and research interests, she is active within the University community. Dr. McManus has been a lead in the curricular development of a Public Health Concentration in Pharmacy which has increasing need for the skills of a pharmacist.
This is a summary of the outreach, service and learning sites which Dr. McManus has been a faculty liaison for the Nesbitt School of Pharmacy. The free clinics of Luzerne and Lackawanna Counties have been providing a broad variety of services to our regional community for more than two decades. They have been a force for positive transformational change in the health and wellbeing of underserved and vulnerable members of our communities. Over time the clinics have evolved to meet the current health and legal challenges facing Northeastern Pennsylvania in a rapidly changing environment. The collective services include, but are not limited to, medical, legal, dental, mental health, physical therapy, optometry, nursing, pharmaceutical access, social services, food, clothing, preventative and wellness programs The NEPA Free Clinic Consortium is a voluntary structure which acts as coordinating body for the current (9) independent free clinics in Luzerne and Lackawanna Counties. Tens of thousands of individuals and families have been touched the services offered. The current 9 clinics are The Hope Center of Wyoming Valley, Wilkes-Barre Free Medical Clinic, Volunteers in Medicine, Care and Concern Free Medical Clinic, Greater Hazleton Free Medical Clinic, McKinney Clinic, Back Mountain Free Medical and Legal Clinic, Beyond Morning Worship Clinic, and the Leahy Clinic. The majority of the clinics are staffed by volunteers allowing for a multitude of opportunities to empower and enhance the quality of life of all involved. Most of the health professional educational programs support the delivery of interventional and preventative services as well as many opportunities for our future professionals to engage the community in service. As the community needs change the clinics expand or contract services provided as necessary. These community clinics are ideal sites for education regarding prevention and treatment of substance use disorders particularly since there is evidence which demonstrates a higher percentage of clients who are exposed to or have substance use disorders than the general population. The free clinics should be target intervention sites
She is dedicated to student learning, faculty and staff development and the overall wellbeing of the community at large.
Dr. McManus teaches the following courses in the Pharm.D. Curriculum:
Anatomy and Physiology
Immunology and Biotechnology
Social and Behavioral Determinants of Health
Environmental Health for Public Health Practice
Public Health Concentration Capstone
Public Health Advanced Pharmacy Practice Rotation
PUBLICATIONS AND GRANTS
AllOne Foundation – Luzerne County: 2018
Opioid Abuse Prevention Program $125,000 – pending
Department of Public Works Collaborative Grant Awards: - 2010-2011
Individual Submissions & Awards:
Mountaintop Free Medical Clinic - $30,000 (1 submission)
The Hope Center $60,000 (2 submissions)
Care and Concern Free Medical Clinic $78,000 (2 submissions)
Wilkes-Barre Free Medical Clinic$60,000 (2 submissions)
Back Mountain Free Legal Y Medical Clinics$60,000 (2 submissions)
Blue Ribbon Foundation NEPA
Pharmaceutical Access Project -Collaborative Grant
2006-2009 - $75,000 per year
Blue Ribbon Foundation NEPA
Pharmaceutical Access Project- PI
2009 – 2010 - $20,000 per year ($20,000)
United Way
Pharmaceutical Access Project - Collaborative Grant
2003-2007 – Renewed yearly grants - $20,000 ($100,000 total)
Luzerne Foundation
Pharmaceutical Access Project - Collaborative Grant
2006-2007 - $2000.00
Pennsylvania Department of Health
2002-2003
Pharmaceutical Access Project - Collaborative Grant - $150,000.00
Pharmaceutical Access Project
Volunteers in Healthcare - Collaborative Grant, Pharmaceutical Access Project
2001-2003- $50,000
McManus, M (2019) Pharmacists as Agents of Public Health - Curricular Concentration Development for Pharmacy Practice, Abstract presentation at American Public Health Association Annual Meeting, Philadelphia PA
Kimberly Ference, Pharm.D., Jennifer Malinowski, Pharm.D., Marie Roke-Thomas, Ph.D., Mary McManus, Ph.D. (2014) An Interdisciplinary Approach to Developing a Culture of Community Engagement in the School of Pharmacy. School Poster Presentation at American Association of Colleges of Pharmacy Annual Conference, Grapevine, TX
McManus M and Lynn K (2014) Student Directed Infectious Disease Prevention Among Homeless Individuals. Poster Presentation at National Healthcare for the Homeless Annual Meeting, New Orleans, LA
McManus M and Lynn K (2013) Poster Presentation, Infectious Disease Prevention Among Homeless Individuals. Nesbitt College of Pharmacy & Nursing (3rd Place Award Clinical Sciences)
McManus M, Rule B, Hart L, DeBuck E (2013) Impact of the Affordable Care Act on Medicaid Expansion in Pennsylvania. Poster Presentation at Pennsylvania Pharmacist's Association Legislative Day Harrisburg PA
Briggs A, McManus M, Weems A (2012) APhA House of Delegates: Dauntlessly Tackling Difficult Issues Facing the Profession, J Am Pharm Assoc. 2012;52:432-444
McManus M and D'Ippolito (2012) A comparison of active learning methods in an upper level physiology course: team based activities versus individually directed activities. Poster Presentation Human Anatomy & Physiology Society Annual Meeting Tulsa OK
McManus M, D'Ippolitto (2012) Overcoming student and faculty hurdles in the world of team based learning Workshop Presentation Human Anatomy & Physiology Society Annual Meeting Tulsa OK
McManus M, Towsend J, and Foote E (2011) Regional Interprofessional Education Coalition" Seminar Presentation Collaborative Family Healthcare Association Annual Meeting, October 28, 2011.
McManus M, Havrilla E., Hirthler K (2011) NEPA-IPEC Interprofessional Collaborative Care Summit- Vulnerable Populations Presentation
Witkowski S., Toczek B., Roke-Thomas M., McManus M (2010) Increasing Pharmaceutical Access to the Working Poor: Service Learning in a Volunteers in Medicine Clinic (VIM)
Beckly J., Roke-Thomas M., McManus M. (2010) Service Learning Project Identifies Decreased Emergency Room Visits for the Uninsured, Poster Presentation American Association of Colleges of Pharmacy Annual Meeting Seattle WA
Wells S. and McManus M.F. (2004) "Restricted Formulary Utilization in Pharmaceutical Access Programs. Short Communication. Healing Hands Newsletter April 2004. National HeaIthcare for the Homeless
McManus M.F. and Graham B. (2004) "Examination of a Service-Learning-Based Pharmaceutical Care Program Delivered by the Pharmaceutical Access Project of the Nesbitt School of Pharmacy. Abstract 192. 2004 APhA Annual Meeting Seattle WA
McManus M.F. (1999) "Alternative Medicine Courses in the Schools of Pharmacy"Panel Participant. American Association of Colleges of Pharmacy. 1999 Annual Meeting, Boston
McManus M. F. and Dolinsky, D. (1998) An Evaluation of a Course Titled "Making Choices About Alternatives to Biomedicine" with a Discussion of What Could be Translated to the Internet. Poster Presentation. AGRI Congress - Belgium
McManus M.F. (1998) "Potential SIG on Alternative Medicine" Presider and presenter of an open forum debating incorporation of complementary & alternative medical practices into pharmacy curriculum. American Association of Colleges of Pharmacy. 1998 Annual Meeting, Aspen
Dolinsky D. and McManus M.F. (1998) Making Choices About Alternatives to Biomedicine: An Elective Before Graduation. American Journal of Pharmaceutical Education.
McManus M.F. (1998) "Introduction to Complementary and Alternative Medicine for Pharmacists". American Council of Pharmaceutical Education. Continuing Education Program. AMS College of Pharmacy
Dolinsky D. and McManus M.F. (1997) Making Choices About Alternatives to Biomedicine: A Curriculum Guide. American Journal of Pharmaceutical Education. Vol. 61:106S
Desselle, S.P., Babar, A., Bazil, M., Brown,M., Digregorio, R., Hamburg, E., Kirschenbaum,H., McManus, M., Okarter, T., Raje, R., Schwartz, E. (1997) Using Student Focus Groups as One Method of Ensuring Quality in a Curriculum. American Journal of Pharmaceutical Education. Vol. 61 :95S
McManus M.F. and Trombetta L.D. (1995) The effects of diethyldithiocarbamate (DDC) on the astrocytic cytoskeleton. Scanning Microscopy. 9:257-270.
McManus M.F. and Trombetta L.D. (1994) A scanning electron microscopic study of the effects of diethyldithiocarbamate on the astroglial cytoskeleton. Scanning Electron Microscopy International, Toronto, Canada
McManus M. F. and Trombetta L.D.(1993). The effects of diethyldithiocarbamate (ODC) on the cytoskeleton ofastroglia. The Toxicologist 13:127. McManus M. F. and Trombetta L.D .. (1992) A scanning electron microscopic study of the effects of diethyldithiocarbamate (DOC) on Astrocytic Cytoskeleton. The Toxicologist 12: 193
McManus M.F. and Trombetta L.D. (1991) The effects of diethyldithiocarbamate (DOC) on astrocyte microtubules. The Toxicologist 10:53.
McManus M.F., Toulon M., and Trombetta L.D. (1989) The protective effects of zinc on diethyldithiocarbamate (DOC) cytotoxicity on astrocytes in culture. The Toxicologist 9:132.
McManus M.F., Huie, P., Trombetta L.D. (1986) The effect of disulfiram on cytoskeletal proteins. The 8th Annual Pharmacy Undergraduate Research Seminar p.20. West Virginia School of Pharmacy and Mylan Pharmaceutical
HONORS, AWARDS, SERVICE
American Foundation for Pharmaceutical Education Scholar
Outstanding Faculty Member – Wilkes University (2003)
Teacher of the Year – Wilkes University School of Pharmacy – (2004, 2006 & 2008)
Msgr. Andrew J. McGowan Leadership Award - Commission on Economic Opportunity (2009)
Eli Lilly Ethics, Scholarship and Leadership Award
Warner Lambert Scholarship for Academic Excellence
Rho Chi Research Award