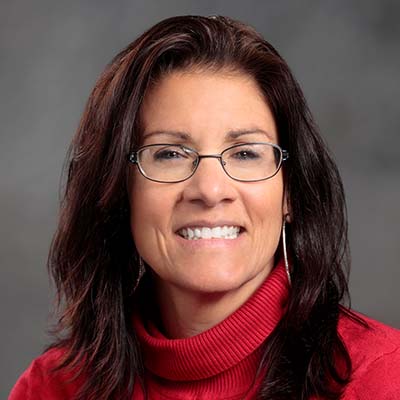 Julie McMonagle is a career geologist and is currently a lecturer and the lab manager in the Environmental Engineering and Earth Sciences (EEES). Julie has not only had a life-long passion for the field of geology but also has had a great interest in community environmental issues. After earning a Master's Degree in the field of Geology from Lehigh University, Julie spent several years working for environmental consulting firms which were primarily focused on assessing and remediating soil and groundwater contamination. Julie then left the consulting world and turned her interests to the field of academia and began teaching at Wilkes University in the EEES Department while at the same time joined the non-profit organization, the Pennsylvania Environmental Council. After several years, Julie decided to focus professionally on her work at the Pennsylvania Environmental Council and stopped teaching. Over the course of the next decade, Julie had the opportunity to lead a variety of environmental initiatives including land preservation, water quality and water quantity issues, illegal dumping prevention and cleanup, promotion, planning and development of outdoor recreational opportunities and healthy living. During her tenure at the Council, Julie raised over $5 million dollars to support these initiative and rose through the ranks at the council to become Vice-President of the Northeast Regional Office. In 2010, Julie decided to return to the world of academia and began teaching earth and environmental sciences courses at Wilkes University again. Julie also took a position as Director of a local rails-to trails organization, Anthracite Scenic Trails Association, where she raised over $500,000 to support the further construction of the Back Mountain Trail. In 2011, Julie became the Lab Manager for the EEES Department at Wilkes in addition to continuing her teaching responsibilities. Her role in the Department has expanded to now also focus on leading various recruiting and educational events including an environmental science summer camp and earth and environmental science workshops for high school students.
August 2010- Present - Lecturer/Lab Manager, Wilkes University, Environmental Engineering and Earth Sciences Department
August 2010-Present - Adjunct Faculty, Penn State University, Wilkes-Barre Regional Campus
August 2010 – June 2013 - Executive Director, Anthracite Scenic Trails Association
August 1995 – July 2010 - Vice-President/Project Manager, Pennsylvania Environmental Council, Luzerne Borough, PA
October 1997 – January 2013 - Peer-to Peer Consultant, Pennsylvania Department of Conservation and Natural Resources
August 1993 – August 1995 - Staff Geologist/Project Manager, Groundwater Technology, Wilkes-Barre, PA
August 1991- August 1993 - Staff Geologist, Marcor Environmental, Exton, PA
M.S. Geology, Lehigh University (1992)
B.S. Geology, Juniata College (1989)
EES 105A Global Environment Lecture and Laboratory
EES 105B Forces of Geologic Change Laboratory
EES 242 Environmental Health Lecture
EES 211 Physical Geology Laboratory
EES 230 Ocean Science Laboratory
ENV 332 Air Quality Laboratory
ENV 315 Soil Laboratory
May 2015 –August 2015. Impact of Soil Properties on Agricultural Production. Department of Environmental Engineering and Earth Sciences, Co-Investigator with Dr. Chris Dempsey, Wilkes University, Wilkes-Barre, PA.
Wilkes University Environmental Health and Safety Committee member 2010-2013
Lab Safety Sub-Committee – 2013 - Present
Faculty Search Committees – 2016-2017
Passport to Science Committee – 2013
Passport to Science, Co-Director - 2017
Environmental Science Day Camp, Director - 2017
Earth and Environmental Science Day, Director – 2016-2017
High School Teacher Earth Science Workshop, Co-Director – 2017
Susquehanna Warrior Trail Council, President
Promoting and Developing a Trail Network Across Suburban, Rural, and Urban Communities
Michele G Schasberger, Carol S Hussa, Michael F Polgar, Julie A McMonagle, Sharon J Burke, Andrew J Gegaris
American journal of preventive medicine 12/2009; 37(6 Suppl 2):S336-44.
Pennsylvania Association of Environmental Professionals
Geological Society of America