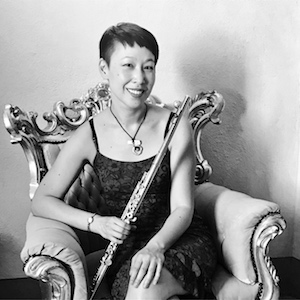 Alicia "Lish" Lindsey (New York University: MA-Flute Performance, The College of New Jersey: BM-in Flute Performance, BA -English, Music Minor-Flute) is the acting principal flutist of the Pottstown Symphony Orchestra and has performed with the Harrisburg, Lancaster and Ambler Symphonies, Video Games Live Orchestra, Philadelphia Virtuosi Chamber Orchestra, Riverside Symphonia, Strauss Symphony of America, Orchestra Society of Philadelphia, Masterworks Orchestra, Center City Opera Theater, and Rittenhouse Orchestra. She is a member of the 5 for Dinner Wind Quintet and piccoloist with the Eastern Wind Symphony. International tours include performances in China and England. United States venues include Avery Fisher Hall at Lincoln Center, Kennedy Center, Kimmel Center's Verizon Hall, Perelman Theater and Commonwealth Plaza, New Jersey State Theatre, New Jersey Performing Arts Center, and others.

Lish is the adjunct flute professor and flute ensemble director at Wilkes University in Wilkes-Barre, PA. She also teaches for Wilkes University's Conservatory program. She is a flute and piano faculty member of the Bronx House School of Performing Arts (NY), Paramus Community Music School (NJ), Conservatory of Musical Arts (NJ), and Musical Associates (NY). Primary flute teachers include Julius Baker, Dr. Brad Garner, David DiGiacobbe, Dr. Dent Williamson, David Ancker, and Ronna Ayscue. Lish has also taught beginning to intermediate piano students (private and group) of all ages for more than 11 years. Piano studies were with Shirley Bachelor, Jack Ervin, and Karen Hill at The College of New Jersey.

Please visit lishlindsey.com for more information and youtube.com/lishlindsey to subscribe to her ongoing flute toot-orial video project.