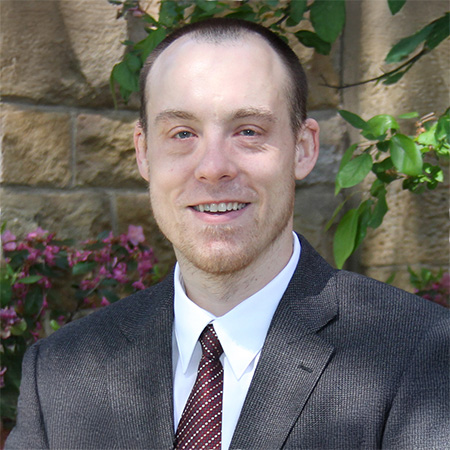 Dr. VanWert returned to Wilkes in the fall of 2008 after receiving his Ph.D. from the Medical University of South Carolina (MUSC). His doctoral research was in the area of drug transport in the kidney. His didactic training was broad, with a focus on toxicology. His current research involves investigation of oxalate absorption from the gastrointestinal tract, as it relates to kidney stones. Techniques used include HPLC/UPLC, Western blotting, and cell culture/cell line engineering. He works with students in the lab during both the school year and summer; the latter being supported by Wilkes Mentoring Grants. He was first introduced to research at Wilkes while pursuing his Pharm.D., and working under Dr. James Culhane from 2000-2003. He was offered jobs in both the FDA and biotech sectors, but chose to return to Wilkes because of his passion for teaching, his positive experience with the faculty, and the family-like environment on campus.
Dr. VanWert teaches pharmacology of several disease states, e.g., cardiovascular, infectious diseases, and gastrointestinal. He also teaches a significant portion of the Anatomy and Physiology course, and offers a toxicology elective.
Dr. VanWert's research deals primarily with characterizing drug transporters in the body. During his graduate training he was tasked with determining the role of organic anion transporter 3 (Oat3) in the disposition of a variety of drugs. A major finding from this work was the discovery that Oat3 is a critical protein involved in the renal elimination of benzylpenicillin (penicillin G), as well as other commonly used drugs.
Current research in Dr. VanWert's lab centers on kidney stones, and specifically oxalate absorption from the GI tract. Techniques that students are actively learning and employing in his lab include HPLC/UPLC, fluorescence spectroscopy, drug transporter assays, mammalian cell culture, immunoblotting, and others. He welcomes new opportunities for collaboration, and encourages interested readers to contact him at adam.vanwert@wilkes.edu.
Publications: view updated publications on Google Scholar
Director of the new Master's Program in Pharmacology and Medicinal Chemistry at Wilkes University
Graduate Affiliate Faculty member in the Pharmaceutics Department at Virginia Commonwealth University (VCU) since 2012. He serves on dissertation committees in this role.
Received Wilkes University's Interdisciplinary Teaching Award in 2016.
Elected Teacher of the Year in the School of Pharmacy: 2009-2010 and 2013-2014.
Served as chair of the Teacher Recognition and Effectiveness Committee (TREC) and Faculty Development Committee (FDC) at Wilkes
Served as chair of the Curriculum Committee and Assessment Committee in the School of Pharmacy