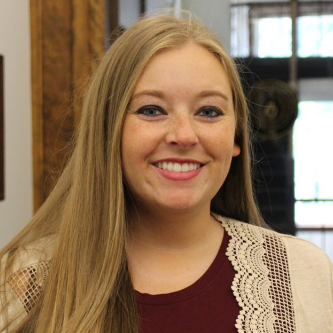 Abby was born and raised in Dayton, Ohio and currently resides in Columbus, Ohio. She graduated with her bachelors and masters from Wright State University focusing on international relations and leadership development. Abby started her position at Wilkes in September of 2018.
Best college advice for prospective students: Take your time and make the best decision for you. Your time at university will go by so quickly so make lots of friends and enjoy your time, get to know your professors, and always make the best decision for you! One other thing I think is so important is to study abroad, even if it is your first time out of the country it is an experience that will change your life.
Favorite thing to do in Wilkes-Barre: I love trying local restaurants that you can't find anywhere else! I also enjoy Wilkes-Barre during the fall because of all of the different colors you can see around campus.
Finish this sentence: On Sunday mornings, you could find me... ...sleeping in and hanging out with my two dogs Fez and Carter.
Favorite vacation spot: I LOVE Toronto, Canada and Paris, France. Both have unique places to visit and I enjoy finding unique places to eat and visit that I can't get at home.
Favorite food: It is a toss up between pizza and ice cream
Favorite season and seasonal activity/hobby: I love the fall! The colors and the cool weather along with a cup of coffee just make me so happy! I enjoy decorating my house for the season and going to choose pumpkins and corn mazes.
Random fun fact about me: I prefer to drive a 6 speed/stick shift compared to an automatic car.
Favorite quote:

"Le monde est un livre dont chaque pas nous ouvre une page"

- in English it means "The world is a book – with each step we open a page."